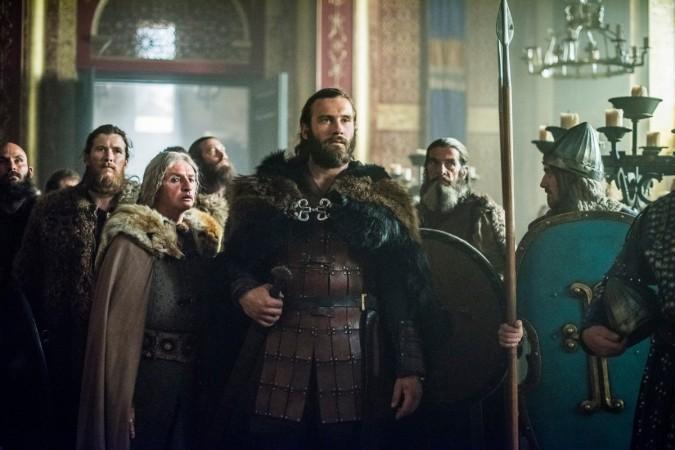 The Season 4 premiere of "Vikings" is only a few weeks away and devoted fans of this period drama want to know what happens to the Lothbroks. If there's an underlying theme for the upcoming season, it is treachery, and this will perhaps punctuate Rollo (Clive Standen) and Princess Gisla's (Morgane Polanski) marriage.
At the end of Season 3, Ragnar's brother Rollo agreed to fight against the Vikings in exchange for a Parisian bride and power on the capital. However, his hubris blinded him to the melancholic persona of Princess Gisla. Marrying a "pagan" was the worst fate that she could ask for, but the Princess didn't have a choice. Will she remain married to him, or will she find a way to escape from her marriage?
The recently-released promo for Season 4 Episode 1 offers a glimpse of Rollo's marriage. His wife is scared as the former Viking warrior approaches her. She resists his attempts to consummate their marriage and finally pulls out a knife. Rollo is shocked at first, but becomes condescending later. In any case, he does not believe she can harm him. He falls asleep and asks her to do the same.
Rollo addresses her as "wife," establishing his authority and dominance in their marriage. Furthermore, he doesn't seem to understand or know why his wife harbours hatred towards him. This one-minute video hints at Princess Gisla's desperation and she will do anything to save herself from the marriage.
As Season 4 progresses, the Princess may secure her future by betraying him to Ragnar (Travis Fimmel). Although the Viking warrior is sick in Kattegat, precious information against the man who turned against him will always be valued.
Standen described Season 4 of "Vikings" as "raw" and "powerful" in a behind-the-scenes clip released by The History Channel. The actor said that the Vikings and the Frankies go to war and added that no one will be safe. "It's all about the struggle for power," he said.
"Vikings" Season 4 will premiere on Thursday, Feb. 18, 2016, at 10 p.m. on The History Channel.
Watch the trailer here: