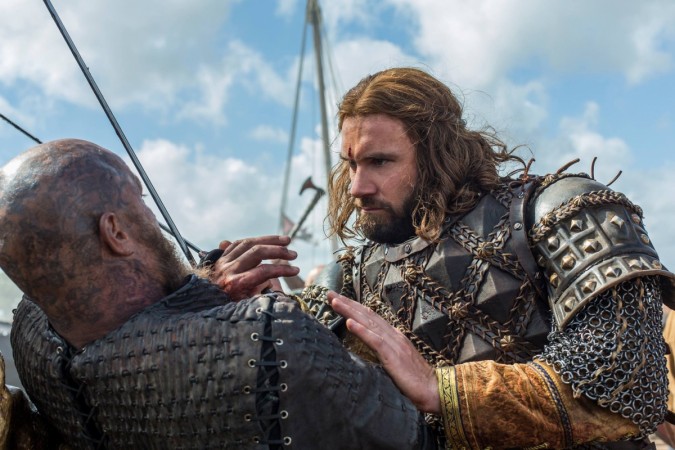 The followers of History drama series Vikings will be surprised to see the return of Rollo to Kattegat and a team up between Ragnar Lothbrok and his brother. But chances for it cannot be ruled out.
The warrior might have gotten everything that he could never imagine, including power, a loving wife and a powerful army. But deep inside him he feels lonely and he is not sure whether he made the right decision.
"The time of his life is where he left his viking gods behind for a long time and it is time to see whether he made the right decision. During the mid-life crisis, he is hedging his best between the two sets of gods. Does he stay loyal to the christian god?" said cast member Clive Standen.
Meanwhile, an exclusive promo released by IGN shows Rollo regretting his decisions. In the clip, he can be heard saying, "I cannot deny that part of myself which is still Viking. No matter how hard I try."
The trailer also teases a showdown between Lagertha and Queen Aslaug, wherein both the women challenge each other. When Alyssa Sutherland's character reminds the shieldmaiden that she is the queen, Katheryn Winnick's character replies, "You call yourself queen. But you will never be the Queen of Kattegat. I never forget anything."
Another sneak peek video teases the rise of Ivar "The Boneless" and Ragnar's apology to his ex- wife. In the clip, the fearless son of Viking leader says that he does not believe in god's existence and man is the master of his own fate.
Vikings will return with the second part of season 4 on November 30 and episode 11 is titled, The Outsider. Here is the official synopsis: Ragnar arrives home to see what has become of his sons; he makes plans to return to Wessex to right past wrongs but finds his closest allies have other plans; the Lothbrok sons refuse to join their father's mission, except for one.