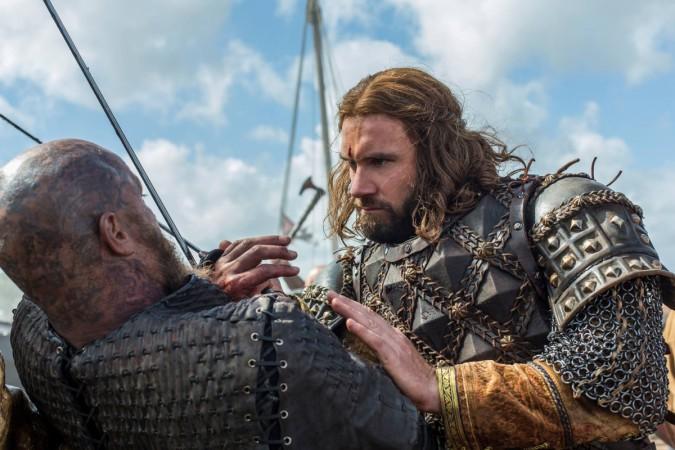 The previously aired "The Last Ship" was the perfect mid-season finale for History Channel's "Vikings." However, now the fans have to wait until the break is over to see how brothers Ragnar (Travis Fimmel) and Rollo (Clive Standen) will move on following the battle.
Although a release date has not been officially announced for the mid-season premiere of "Vikings," it is known that the show will return in the fall. In Season 4, "Vikings" will, for the first time, air 20 episodes, as until now each season had just 10 episodes.
The upcoming episodes of Season 4, starting with episode 11, are expected to be tear-jerkers. The highly popular period drama is expected to explore Ragnar's journey to redemption, at least in his own eyes, after his first defeat in the battle against younger brother Rollo.
Also Read: New "Naruto Shippuden" arc based on original manga starts in May
It is definitely not an end for Ragnar as "Vikings" is the story of "the rise and fall of a hero — it still counts as a fall, I suppose — but some of my best work and Travis' work comes in the next half of the season," series creator Michael Hirst told the Hollywood Reporter.
Hirst agrees that Rollo's victory was a very unlikely outcome. "The hero loses to his brother? A lot of fans wouldn't have expected that Rollo would win, but yet maybe they take some pleasure in Rollo's ascension and being crowned. It is a tipping point, a defining point between the brothers, but that's not to say it's the last time we see Rollo."
When the brothers return, there would be a significant jump, allowing Ragnars' four boys to grow up into strong men. "In this last episode, we got a glimpse of the boys before starting the next half of the season; it gives a taste of what's to come," Hirst said. It is teased some of his sons may even disagree with his stands.
Check back here for more updates and spoilers on "Vikings" Season 4 . Meanwhile, check out the promo for the unnamed Season 4 episode 11 of "Vikings" shared by Promos and Previews.