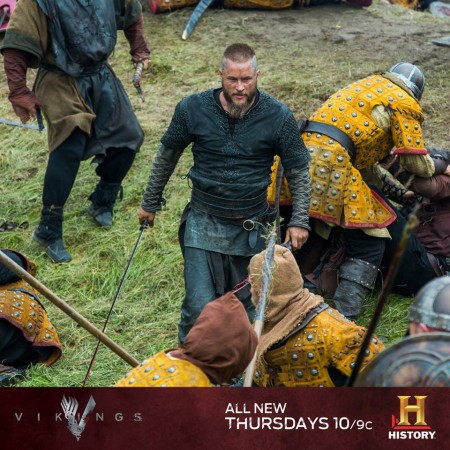 History Channel will air Season 3 episode 7, titled "Paris", of "Vikings" on Thursday, 2 April, at 10 pm. "Paris" will revolve around new challenges of King Ragnar Lothbrok (Travis Fimmel) and team.
The trailer of upcoming sequel shows the ruler taking help of Anglo-Saxon monk Athelstan (George Blagden) to understand the possibilities of defeating Paris.
In the one minute-long sneak peek video, the monk informs Ragnar that their next destination is located on an island and the place is surrounded with huge stone walls. He also warns the King and says, "This city is impregnable". However, the ruler will not back from his decision and lead his team to the city.
According to official synopsis of episode 7, the populace of Paris will be in a panic after the appearance of the Viking fleet. But Emperor Charles will not run away and at the behest of his daughter, he will announce that he will remain in the city.
So fans of "Vikings" can expect to watch a real battle between King Ragnar and Emperor Charles. Meanwhile, if the predictions of the Seer (John Kavanagh) are believed, then the former will not conquer Paris and the bearer will be crowned by a princess.