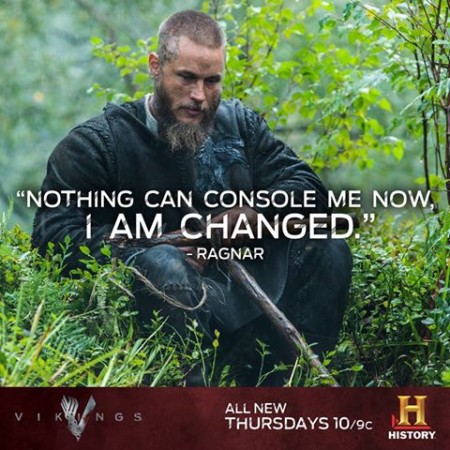 When "Vikings" returns on History Channel with season 3 episode 8, titled "To the Gates!", it might show King Ragnar Lothbrok (Travis Fimmel) as a changed person.
Last sequel titled "Born Again" showed the shocking death of Anglo-Saxon monk Athelstan (George Blagden) and episode 7 will show the impact of it on the Ruler.
The trailers of episode 7 titled "Paris" portray a heartbroken Ragnar, who says, "What am I to do now? I hate you for leaving me. There is nothing that can console me know. I'm changed." So viewers can expect to watch some shocking changes in episode 8.
Creator Michael Hirst has already teased that there will be a lot of psychological and physical changes in Fimmel's character and he will clearly "get the man who did this" in the upcoming sequels of the history drama.
"It's going to have a huge impact psychologically and in other ways. We don't necessarily see that immediately, but certainly when he gets to France. He becomes a slightly different, slightly darker man," he told Zap2it.
The official synopsis of episode 8 states that the Viking army sets out and Paris goes into lock-down as the soldiers prepare the defence. So the sequel may lead viewers through the darker side of Ragnar, who may take his retaliation on Floki (Gustaf Skarsgård) for killing his close friend.
However, fans of history drama series will have to wait until 9 April to know more about the King and his shipbuilder's future. Till then they can tune in to History Channel this Thursday, 2 April, at 10pm for "Vikings" season 3 episode 7 titled "Paris", which will be live streamed here.