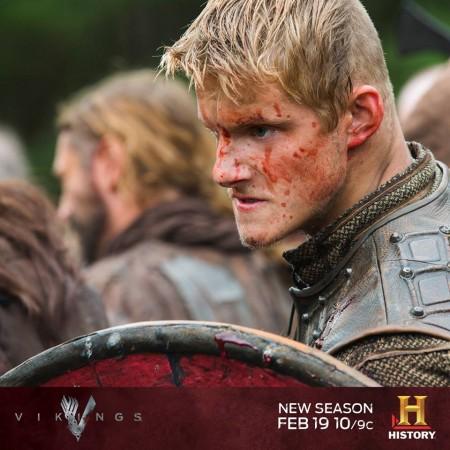 History Channel's drama series "Vikings" will be bringing in a jaw dropping finale of season 3 titled "The Dead" on Thursday, 23 April, at 10 pm and it is likely to change the Viking history forever.
As King Ragnar Lothbrok (Travis Fimmel) and team fail to conquer Paris for the second time, they may realise that man power and courage wouldn't be enough for them to defeat Emperor Charles of France (Lothaire Bluteau) and his soldiers.
The official synopsis of episode 10 states that the troops will make one more daring effort to take Paris and the King will ask his son Bjorn Ironside (Alexander Ludwig) for a favour that could alter the course of Viking history.
Although the description has no indication about the favour, the show could probably lead viewers to a wedding ceremony as Fimmel's character is expected to ask his son to marry Princess Gisla of West Francia (Morgane Polanski).
The Seer (John Kavanagh) has already predicted that the bearer will be crowned by a princess and it hints that Ludwig's character could be the next leader of Paris.
Meanwhile, the title of episode 10 could be about the seer's first predication, which indicated that not the alive but the dead will conquer the city of lights. So Anglo-Saxon monk Athelstan (George Blagden) can be assumed as the inspiration for the king to take the decision.
In the meantime, viewers can assume a new danger coming in the way of Ragnar as creator Michael Hirst teased that season 4 will focus on Bjorn.
However, fans of "Vikings" will have to wait for few more days to watch the finale of season 3 titled "The Dead", which will be live streamed here.