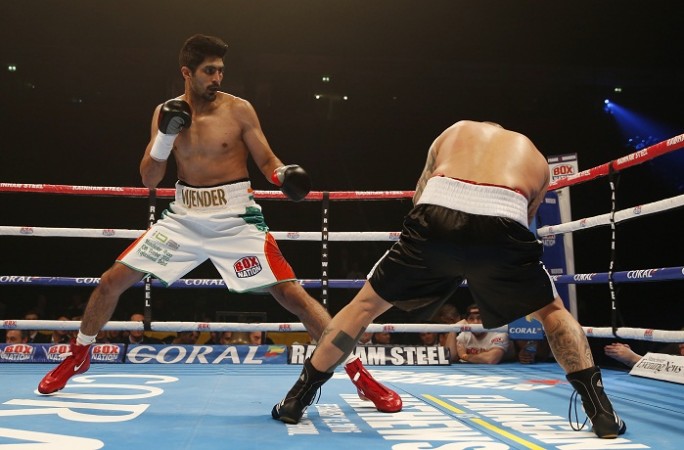 When Indian sensation Vijender Singh faces Kerry Hope for the WBO Asia Pacific title on July 16 in New Delhi, combat sports fans in India will have much to celebrate. After all, watching their favourite boxer fight as a pro live for the first time, that too for the belt, is a moment that doesn't arrive everyday.
However, the big question remains, will Vijender be ready for Hope, who has been a former European champion? Not only that, the Australian pugilist also has 30 pro boxing fights under his belt over a 12-year long career. This is in stark contrast with Vijender's six fights as a pro in less than a year.
The Indian has a real work cut out this time and one thing is for sure, Vijender has to train for this upcoming fight like nothing he has done before. Much like Rocky Balboa did in order to train for his fight against Ivan Drago in 'Rocky 4' -- train old-school in the snow-clad Russia.
"I have started high intensity training two weeks ago to compete in the first 10 rounder fight for Asia Pacific title and working hard to win this. I have seen videos of Kerry, he is a good opponent but I am training really hard to be ready for what my opponent has," says Vijender.
Vijender has knocked out his opponents on five occasions over his six fights as a pro. Only Alexander Horvath was forced to retire from the fight owing to a shoulder knock. KOs have come in easy for the Indian thus far and he is willing to continuing that momentum against Hope as well.
"If Kerry comes forward and throws shots then anyone who has done that in the past has got knocked out so if he leaves himself open my natural strength will play a big part," the 30-year-old continued. "Every fight I go into I believe I will win. Doubt is the enemy. I believe he's not as strong as me and he's not training like I'm training."
Here are some snippets from Vijender's training routine under Lee Beard ahead of his WBO Asia Pacific title fight:
Basic perfection of techniques - Shadow boxing in front of a mirror.
Advanced perfection of techniques - 12 rounds of sparring focusing on the defencive and offencive moves.
For strength training - Floor work (using bodyweights).
For speed, timing and coordination improvement - Pad work.
(with PTI inputs)