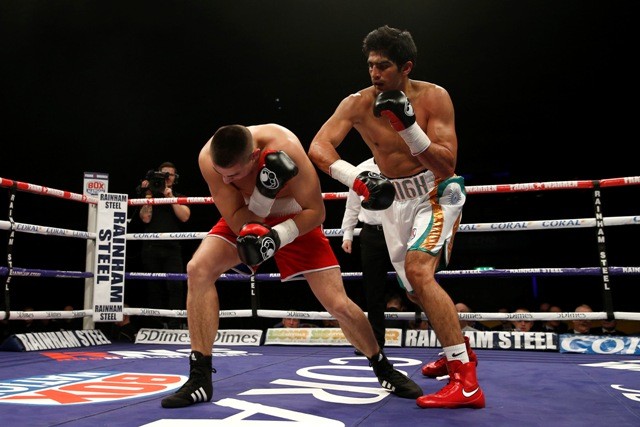 Can anyone stop Vijender Singh inside the boxing ring? Professional boxers have come, fought, and lost against the Indian boxer, who is yet to taste defeat in the pro circuit. Singh has defeated experienced boxers like Samet Hyuseinov, and will be gunning for his sixth successive win in the circuit as he prepares to fight Polish boxer Andrzej Soldra at Macron Stadium Premier Suite in Bolton on Friday.
It is an amazing feat -- winning his first five fights -- for a boxer, who took a giant jump from amateur to pro boxing. However, his tasks ahead will not be easy. His future opponents will have a greater insight into his videos, and try to find his weaknesses and exploit it to the fullest.
As of now, the Indian boxer has dropped few hints to his opponents about his weakness and has been mighty impressive inside the boxing.
There seems to be an air of confidence regarding Singh, who walks into the ring to "Singh is King" music in the background. And his performances inside the ring have been true to the song title, dominating fights, one after the other.
Not only has Singh shown brilliant class during the mega fight, he has shown strong character to emerge victorious as well. Singh has shown great maturity in his first five fights, patiently building up for massive punches to knockout the boxer.
The Indian does not go full tilt at his opponents, but never misses an opportunity to grab one when presented with a chance. What has been more impressive is his footwork inside the ring, which has helped him wriggle out of awkward situations while on the defensive.
Vijender needs to show such skills once again, against his experienced Polish opponent, Soldra on Friday. The Polish boxer has experience under his belt, as he has fought in a total of 81 rounds compared to Singh's 14.
Soldra is also not acquainted to losing, and has only lost 3 times, and won 12 bouts. The 30-year-old will want to be the first boxer to hand Singh his first loss in the pro circuit.
However, this fight will be a completely different affair for Soldra, who has only fought in Poland so far. His clash against Vijender brings in a fresh challenge as it is for the first time that the boxer will be fighting outside Poland, making his debut in the U.K.
Vijender Singh vs Andrzej Soldra fight schedule
Venue: Macron Stadium Premier Suite, Bolton
Date: May 13, 2016
Time: 10:30 p.m IST
TV listing: India: Star Sports 2/HD. The UK: Box Nation