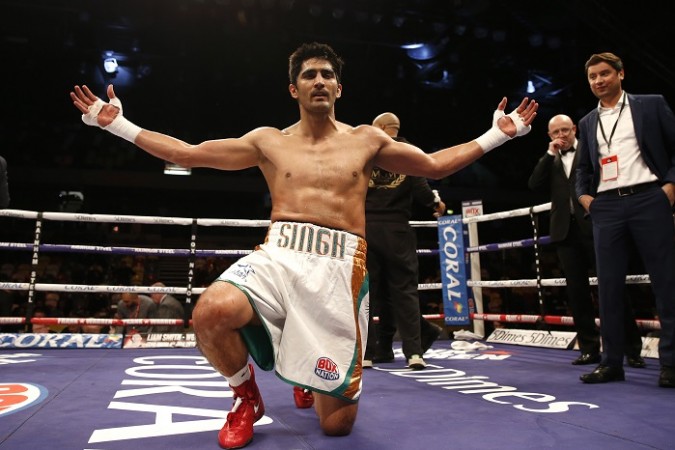 Indian boxing sensation Vijender Singh goes into one of his most challenging fights ever -- be it in his amateur or pro career. But as the saying goes, "With great power, comes great responsibilities"; and in sports too, the motto remains, "the greater you get, the tougher challenges you face!"
Vijender is back for his second pro boxing fight in New Delhi on December 17 against the world-renowned super middleweight boxer Francis Cheka at the Thyagaraj Stadium. The fight will be contested over Vijender's WBO Asia Pacific Super Middleweight championship.
TALE OF THE TAPE BETWEEN THE FIGHTERS HERE.
Vijender, 31, has mentioned that he is going through a completely different level of training in Manchester, England, ahead of the fight as he expects to continue his winning streak as a pro boxer. A successful title defense in his home town will be the perfect icing on the cake for Vijender and his coach Lee Beard ahead of Christmas 2016.
"We have been working on Vijender's strength and power in the gym and he is punching a lot harder. I can already see the benefits of the high-intensity training sessions we have been putting him and everyone will see an even better Vijender on December 17th," said an elated Beard.
"Of all the fighters I have trained, he is one of the best when it comes to learning; he is an extremely quick learner. He will be prepared and ready to defend his title in style."
The last time Vijender fought in New Delhi against Kerry Hope for the WBO Asia Pacific title in Delhi, several politicians and Bollywood personalities made it to the event. This time too, the occasion is going to be special.
For all of you who are keen to see the fight live from the Thyagaraj Stadium to make your Christmas 2016 even more special, here is what you've got to do. Go to the link given below and book your tickets right away.

Ticket prices for the general stands start from Rs 900, while the ringside platinum seats are valued at Rs 13,500. Around 5000 tickets are up for sale for the event.