Vijender Singh made his pro boxing debut in 2015 and has had an incredible career so far. He is undefeated in 10 bouts, including two in 2017. He has become a wonderful boxer, improving by leaps and bounds with each and every fight, and one needs to laud him for his dedication in training.
Vijender's trainer Lee Beard and his team have been doing well in lead-ups to fights, and the results are there for everyone to see.
The Olympic medallist had it all easy in the first eight bouts of his career, but his ninth opponent in the form of Zulpikar Maimaitiali proved to be a stern test in Mumbai. The Chinese made it tough for Vijender, but the Indian connected with his jabs and punches, which helped him earn important points.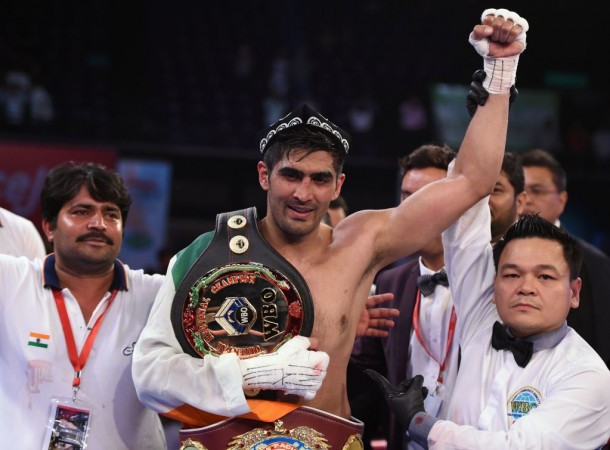 The encounter was, by no means, an easy one for Vijender, who at one point of time suffered a broken nose as well. He was gassed a number of times during the final few rounds, and Maimaitiali was keen to take advantage of the tired boxer, but Vijender came up with a solid defence and the Chinese could not breach his shield-like defence.
A tired-looking Vijender won the bout, and one had not seen the Haryana man running out of energy in any of his previous encounters. Beating Maimaitiali helped him retain the WBO Asia Pacific Super middleweight title and also gain the WBO Oriental title in August.
Vijender retained both titles in his next fight in Decemeber against Ernest Amuzu in Jaipur. After a tough fight against Maimaitiali, Vijender's fans were expecting another similar bout, but Amuzu did not even come close to matching the 32-year-old's skills.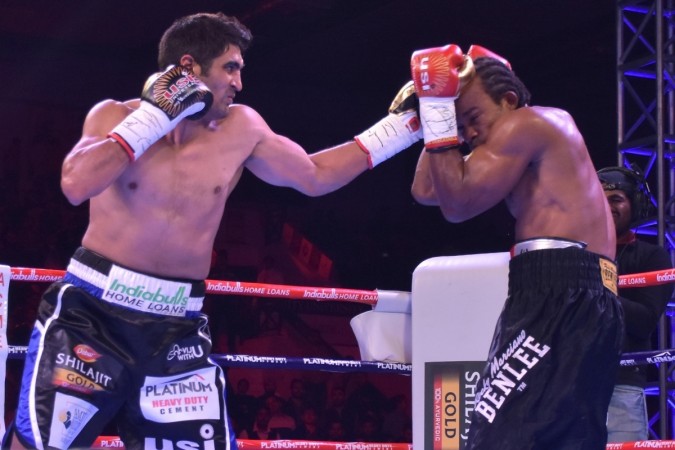 It was a walk in the park for Vijender as he crushed his opponent in all the rounds. There was not a single moment when he looked in trouble. It was all Vijender in Jaipur. His punches, jabs, upper cuts and various shots made it easier for the judges to score in favour of Vijender, who was scored 100-90 by all the three judges.
Need to fight bigger names
How does Vijender want to remember himself when he draws curtain to his pro boxing career? This is an important question. Does he want to go unbeaten, fighting decent boxers or go all out and not worry about the result fighting big names of the industry?
He is 32 and has some good years ahead of him, but there is a serious need for the boxer to fight some big names. It is understandable that the boxer, who was new to the pro boxing circuit started against UK boxers like Sonny Whiting and Dean Gillen in 2015. It was the same (lesser known boxers) in 2016, with no change again in 2017.
Agreed, it is not an easy task to get a big name to fight against the Indian boxer, but his team needs to make a concrete effort to find a world-class boxer, who is willing to box Vijender. The Haryana boxer has, to his credit, two titles: WBO Oriental & Asia Pacific super middleweight. And there will be some star boxers with their eye on those major belts. He has to defend these titles in some months.
Vijender has to look at opponents ranked in the top bracket of the middleweight category. Even losing against top-ranked boxers will not harm him as a boxer. It will only be a learning curve for Vijender, who will also know where he stands in pro boxing.
The Haryana man was expected to fight Rocky Fielding in his next bout, but his next opponent is now unknown as the British boxer has vacated the Commonwealth crown.
There has been talk from Vijender camp stating there will be some big fight in March 2018, and one wonders , with no Fielding, if Amir Khan who has defeated stars like Chris Algieri will be his next opponent, which could be a wonderful battle.
Vijender has shown some genuine interest in fighting Amir Khan, who is also aware of Vijender's keenness to bout the UK pugilist. Besides Khan, there are other boxers as well, and it is time for Vijender and his camp to fight a big name to enhance his reputation irrespective of the result.
However in his next fight, if Vijender still comes up against a lesser known boxer and keeps his unbeaten streak alive, he might never get a golden chance.
Legends are made, not born, and it is high time for Vijender to earn his name in the top bracket. The year 2018 is when he needs to bout against big boxers. Failing to do so might lead to Vijender losing respect in the world of pro boxing.
If that happens, Vijender could be remembered as a mediocre fighter. Will he be okay with that?