Vijender Singh continued his impressive form in the pro boxing circuit with an amazing win against Ghana's Ernest Amuzu at Sawai Man Singh Stadium in Jaipur on Saturday. All the three judges gave 100-90in favour of the Indian boxer, who showcased his dominance to retain the WBO Oriental and Asia Pacific Super middleweight titles.
With this win, Vijender is still unbeaten in the pro circuit. He has won all his 10 bouts and looked in good control of his fight against Amuzu. The Ghana boxer was involved in some trash talking before the fight, promising to knock out Vijender, but he could not walk the talk. In fact, Vijender was at his menacing best in both his defence and offence.
The Indian boxer looked dangerous in the mid-stages and began to dominate proceedings, throwing strong punches and jabs to throttle Amuzu, who was holding onto his dear life in the final stages of the match.
"The first two rounds were fine, but after the third I knew things would improve. I was certain that the scoresheet would be in my favour. The fight wasn't easy and I am happy with my performance. I couldn't knock him out, but it's part of the game," The Times of India quoted Vijender as saying.
In all the ten fight, Vijender has been victorious, only China's Zulpikar Maimaitiali gave him a tough time.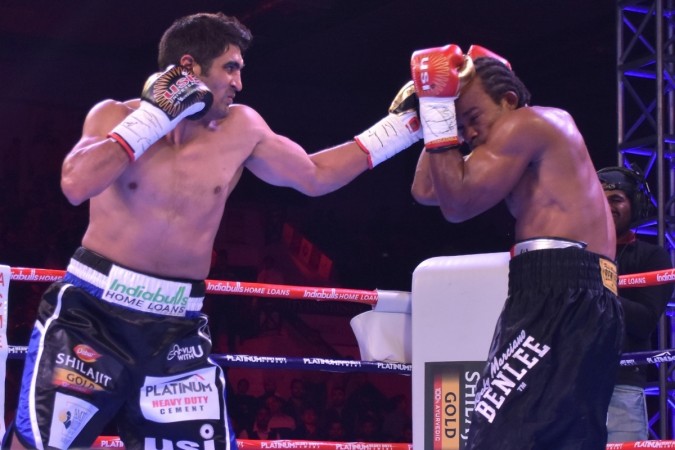 There is a serious need for the Indian boxer to pick up a fight against bigger names in the field of boxing. Fighting against lesser known boxers will not help his reputation.
Vijender needs to fight for major titles and against star boxers. The Haryana man was expected to fight Rocky Fielding in his next bout, but his next opponent is now unknown as the British boxer having vacated the Commonwealth crown.
With his opponent not known, Vijender, in the past, has expressed his interest in fighting a well-known boxer and 2004 Olympic silver medallist Amir Khan. It could come true next year.
It is such kind of fights, which will help Vijender get worldwide attention and beating the British boxer would be the icing on the cake.
Irrespective of who Vijender fights in the next few months or so, it has to be a big name.