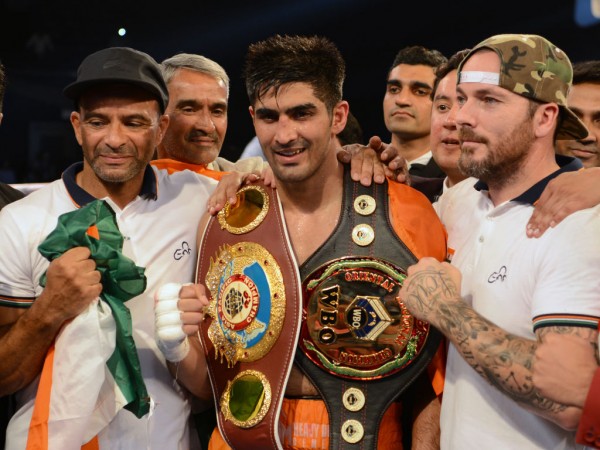 Vijender Singh defeated China's Zulpikar Maimaitiali in an entertaining encounter in Mumbai on Saturday. It was a close fight, with scores given by the three judges reading 96-93, 95-94 and 95-94, which meant Vijender would maintain his unbeaten run and retain his WBO Asia Pacific super middleweight title.
More than the win, the Indian boxer also won hearts with his gesture as he said that he wants to return the title (WBO Oriental super middleweight title), which he won from Zulpikar, and asked for peace in the Indo-China border. There is some huge tension due to the border dispute for some weeks, and Vijender wants things to come back to normal.
10:18 pm IST: Vijender wastes no time in getting out of the ring and hugging the celebrities present.
And now he takes to the mic:
"Thank you so much. I want to give the WBO Oriental title back to Zulpikar. I want to put forward a message of peace.
I didn't give my A-game. The low blows did affect my game today. Thanks to all the people coming.
Zulpikar really surprised me.
Wish me good luck. Hope I get a world title."
FINAL DECISION: WHAAAT?!!! IT'S VIJENDER SINGH WHO GETS THE WIN.
AND THE INDIAN NOW HAS TWO BELTS !!!
10TH ROUND: We do await the official decision now but the writing might be on the wall. Vijender looked completely gassed, his punches weren't accurate and Zulpikar remained the clear aggressor in the final round.
9TH ROUND: The low blows are back again and Vijender is on the receiving end. That was almost an uppercut in the groin. Crowd chanting "Cheat!" on Zulpikar.
BROKEN NOSE. Vijender is hurt and his nose has blown. Punches after one after another to the face.
Might be all over now...
8TH ROUND: Vijender trying to be the aggressor as the time is ticking, bt the Indian is not being able to connect as many punches as he would expect to. Zulpikar's ducking and parries are up to the mark.
We might be in for an upset, folks.
7TH ROUND: Zulpikar is the younger of the two and that is clearly playing an upper hand in the fight. Vijender is not able to match up with his opponent right now. The Indian has connected a lot of punches now.
6TH ROUND: There are a bit way too many below the belt shots already and that looks a bit strange.
Eerie silence in the stadium at the moment. Vijender went down for some seconds and we don't quite know if it's due to a hard hit from Zulpikar or just a slip...
5TH ROUND: Crosses give you the platform. The hooks do the damage. Both fighters are ready for everything. Taking the hit and giving back!
4TH ROUND: ACTION PACKED ! Vijender finally got back his mojo a bit. The combinations are showing!
3RD ROUND: Vijender is holding back his flurry of punches. Although it looks a bit boring from the fan persective, from a technical point, the Indian is doing good so far. Staying calm and getting defensive. This surely is going the distance.
2ND ROUND: Zulpikar trying to be the aggressor, but Vijender is staying composed. And yes, the Indian is using his combo well....well timed and full of precision.
It's almost reminding of the Mayweather-Pacquiao fight to an extent!
1ST ROUND: Zulpikar going for body shots with the start, while Vijender has been testing the reach with his jab attempts.
The southpaw (Zulpikar) vs orthodox (Vijender) fight has always been tricky in boxing. Not too much action as yet. End of Round 1.
9:30 pm IST: The national anthems are done and the fighters are ready for ten rounds of action. Round-by-round updates coming. Stay hooked to this page!
9:25 pm IST: Zulpikar has made it to the ring...and he looks focussed as ever!
And now~ Vijender Singh makes it to the centre-stage amid the tunes of "Singh is King!"
9:20 pm IST: We are LIVE for the main event, ladies and gentlemen!
9:15 pm IST: The megastar Amitabh Bachchan has entered the house at NSCI Dome, Mumbai.
8:55 pm IST: READY FOR THE MAIN EVENT NOW???
8:50 pm IST: Aaaaand....Neeraj Goyat defends his WBC Asia Welterweight championship! #AndStill
That was the FIGHT OF THE NIGHT.
8:45 pm IST: Ladies and gentlemen, WHAT A BATTLE it has been between Allan Tanada and Neeraj Goyat. Belive it or not, the fight has entered the 12th round!!!!
We thought it would get over early on.
8:10 pm IST: Neeraj Goyat of India, meanwhile, is putting up a show here against a Filipino boxer. Whenever we talk Filipino and boxing, the veteran Manny Pacquiao indeed comes to our mind!
7:55 pm IST: It's been quite an eventful night so far for the Indian boxers in the undercard fights. Jitender Kumar has bagged a win and so has the veteran Akhil Kumar, who just made his pro boxing debut against an experienced Australian. Could you believe that?
7:50 pm IST: Hello and welcome to super Saturday in the world of pro boxing. India's Vijender Singh takes on China's Zulpikar Maimaitiali in the main event of Battleground Asia, taking place in Mumbai.
This is me Sayantan who will take you through the full fight, that is less than an hour away from now. Stay tuned for all the live updates from IBTimes India.