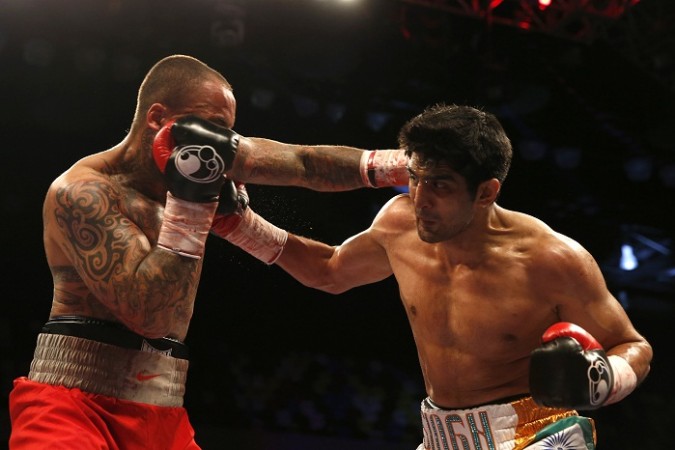 Winning prestigious titles has never been easy in any sport, and Vijender Singh, likewise, needs to get past former WBC middleweight champion Kerry Hope from Australia to win his first belt as a pro boxer. The Indian star will be keen to sparkle in front of his home crowd at the Thyagaraj Stadium in New Delhi, where the two boxers will be giving their best for the WBO Asia Pacific super middleweight title on Saturday.
Ever since Vijender turned pro last year, boxing fans in India have had the luxury of watching the Indian ony on TV, as all six of his last fights took shape in the UK. However, this title fight will prove to be his homecoming, hence, it is no surprise that the tickets were sold out in a flash.
Vijender has shown some great skills, with his powerful jabs, punches, and quick movement across the mat so far. The Indian boxer needs to bring that experience into play against the Welsh-born Australian Hope, who has seen it all inside the professional circuit.
The Australian, with a 23-7 record, has all the experience in the world to defeat Vijender, who is yet to taste defeat as a professional boxer. The bout has all the ingredients of a classic encounter, with both confident of winning the title.
The 2010 Asian Games gold medallists trainer Lee Beard has worked out some plans to tackle whatever is thrown at Vijender during the fight. The Indian has shown some great patience in the last few fights, building up slowly before unleashing his powerful jabs and punches, which is going to hold the key in the bout as well.
Though much of the talk has surfaced around Vijender's lack of experience, compared to Hope's familiarity in pro boxing, the Indian boxer is keen to knock his opponent out.
"I have an Olympic medal. Kerry is an experienced guy, but I have an Olympic medal, that's not a small thing. It's going to be an interesting match. The night will decide who is the best. I will try for another knockout, give my 100 percent in the ring and do my best to knock him over," News 18 quoted Vijender as saying.
Vijender Singh vs Kerry Hope schedule:
Fighting for: WBO Asia Pacific super middleweight title
Date: Saturday, July 16
Venue: Thyagaraj Stadium
Time: 7 p.m. IST, 2.30 p.m. BST, 11.30 p.m. AEDT.
TV listings: India: Star Sports 4/HD. UK: Box Nation.