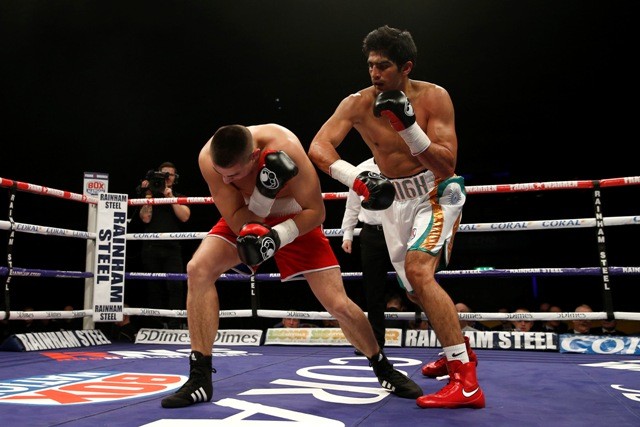 Boxing fans in India will get to see Vijender Singh make his home debut as he prepares for the WBO Asia Pacific title bout against Australia's Kerry Hope at Thyagaraj Stadium in New Delhi on Saturday. The Welsh-born Aussie wants to take inspiration from Gareth Bale and Wales' splendid performance in Euro 2016 to help defeat the 2008 Olympics bronze medallist.
Though Hope is experienced with around 30 professional bouts under his name, Vijender is considered to be the favourite after some impressive performances. The Indian boxer has won all his pro fights via knockouts so far, showing some great offensive and defensive skills. Vijender needs to being his A-game to get the better of the Australian as well.
"I have been following them (Wales), but because of the time difference in Australia, I didn't get a chance to watch all the games. But they have done well. We lost to eventual champions Portugal. I feel inspired by them. I have a chance to do what what they did in the Euros, triumph of the underdog," Press Trust of India quoted Hope as saying.
"I love the underdog tag, there is no pressure on me. The expectations are from Vijender, so he is the one who has to live up to the pressure."
Hope has been training hard to emerge triumphant and clinch the title. The tickets for the mega bout have already been sold out, with the majority of the fans expected to root for Vijender. The Australian is prepared for a hostile reception, but believes he is ready to do what is necesary inside the ring.
"I don't think anybody would be cheering for me, but it's OK, nobody can help him in the ring. It's just me and him there. I got a chance to see some of his videos and he is a talented guy no doubt, he has done well as an amateur and has had a good stint so far in the UK," Hope said.
Hope is a confident man coming into this fight and warned Vijender, saying he will "chop him down" in front of his home fans.