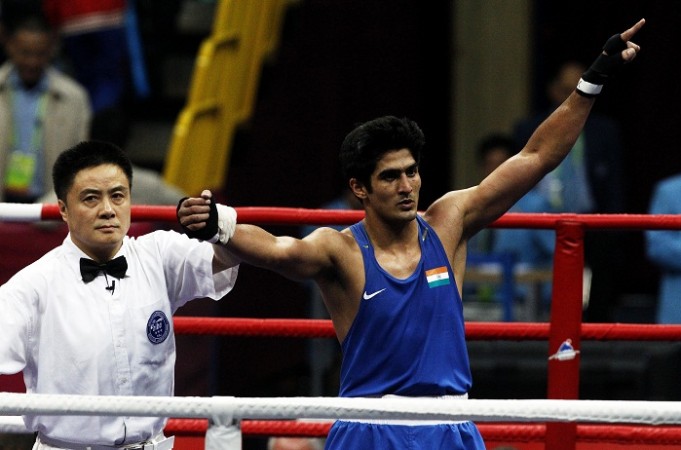 Indian sensation Vijender Singh, who is set to make his debut as a pro boxer on Saturday at the Manchester Arena, has announced that he is going to use the peppy track of 'Singh is Kinng' as his entrance tune.
The title track of the Bollywood movie, picturised on Akshay Kumar, is something that pumps up the pugilist, and he will play the tune in front of the capacity crowd and, probably, get the much-needed boost as he looks forward to defeating Sonny Whiting.
The 29-year-old Bhiwani pugilist takes on the British boxer in a four-round middleweight fight.
"Every boxer has an introductory music and I have chosen 'Singh is Kinng'," the Indian Olympian said to The Times of India. "because I am Vijender Singh and Singh is king, and king is bling."
Transitioning from an amateur to the fiercely-contested professional arena is not easy for any boxer in the world, but Viju, as he is fondly called, looks in the best of shape -- both mentally and physically -- ahead of the fight.
"People are asking me 'Are you nervous?'. Why would I be nervous? I have done everything in my life - won medal at Olympics (2008) and World Championship (2009)," the 2008 Beijing Olympics bronze-medallist said.
"For me, it's the same, I just have to go in the ring and box hard. Just that the rules will be different from now on."
Training under Lee Beard -- who has worked with Floyd Mayweather Sr in the past -- is a gift in itself for the Indian pugilist, and the months of practice, which included sparring with Jack Catterall, Adrian Gonzalez and Jimmy Kelly, has given Vijender the much-needed hope in pro boxing.
"I am around new people, new coach and new fellow boxers, they are my new life now. I sometimes miss my old group of training mates but I have to be strong," Vijender continued.
"Starting is always difficult but once other Indian boxers start turning pro then we will have our own team here too."