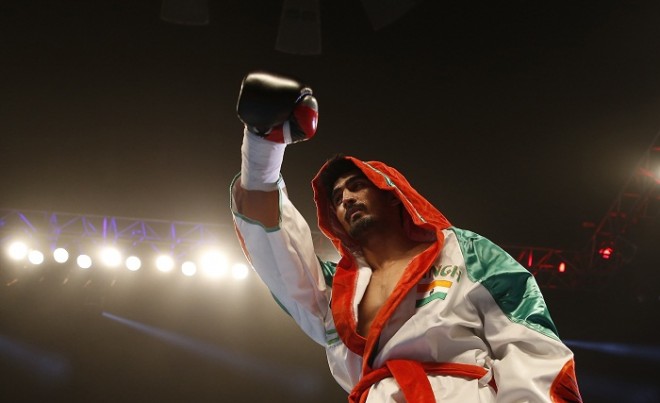 Vijender Singh has made an impressive start to his professional career, winning all of his first three bouts. His performance has not gone unnoticed, as the India boxer has been awarded a chance to fight for the WBO Asia belt in June in New Delhi.
This WBO title fight also gives Vijender a chance to show his pro skills for the first time in front of his fans in India. Though the boxer might have been criticised initially for going pro, thus rendering him ineligible to participate in the Rio Olympics, one can expect boxing fans to turn up in numbers in Delhi for the bout.
The boxer has fought two of his last three matches in England, and the fourth one is also scheduled to be held in the same country in March.
Though the fight has been decided, the opponent for the WBO Asia title later is yet to be decided.
"I am already excited. My first title fight, that too in front of my own people, in my own country. It cannot get better than this. I have no idea who my opponent is going to be but I am sure I will carry on the way I have so far," PTI quoted Vijender Singh as saying.
The venue of the bout will be decided by the WBO officials, which also includes his UK promoters Queensberry Promotions' chief Francis Warren.
There will be pressure on the boxer when he fights for the WBO Asia title as it is a chance for Vijender to win his first title, which will help him climb in status in the world of pro boxing.
"It's the next level for him. He will fight for the WBO Asia title in June and a team of WBO officials will recce for venues in Delhi. The first venue to be checked out will be the Indira Gandhi Indoor Stadium," Vijender's India promoters, IOS Boxing Promotions' MD Neerav Tomar said.
The mega fight , which has been scheduled in June, is four months away, so Vijender should, at present, concentrate on the upcoming matches in the circuit and maintain his unbeaten streak in pro boxing. He is training in the UK and will continue to do so for his next few fights as well.
"For the time being, Vijender will continue to train and fight in the UK. After his March 12 bout, which will be of six rounds, Vijender will fight two more bouts in April and possibly beginning of May. These two bouts will be eight-round affairs," Tomar said.
"This will be followed by the Asia title bout in June which will be either 10 or 12 rounds in all."