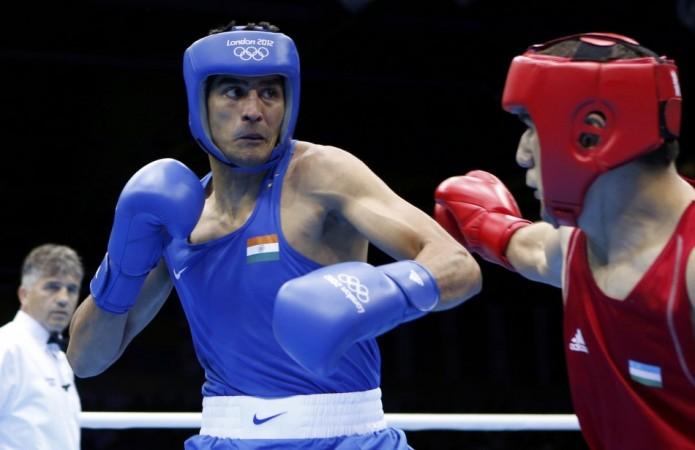 Olympics bronze medallist Vijender Singh denied using drugs, even as he refused to give his blood and hair samples to the police for further investigation.
The 29-year-old boxer from Haryana was questioned by the Punjab Police for about three-and-a-half hours on Monday over his alleged links with a drug peddler.
Vijender Singh, a Deputy Superintendent of Police (DSP) in the Haryana police, was grilled by Punjab police in Panchkula town in the presence of Haryana's Superintendent of Police (Crime) Hardeep Singh Doon.
A Punjab police spokesman said that the boxer was asked in the presence of two witnesses to give his blood and hair samples for forensic examination but he refused.
Authorities arrested Anup Singh Kahlon and Kulwinder Singh for possessing 540 grams of heroin on 3 March. Upon further investigation, 26 kg of heroin worth ₹130 crore was recovered from Kahlon's flat in Zirakpur of Mohali district.
Boxers Vijender Singh and Ram Singh were summoned for questioning after Kahlon claimed that they were his clients.
Suspicions of Vijender Singh's links with drug peddlers emerged after a car registered in his wife's name was found outside the flat where heroin worth ₹130 crore was recovered.
Ram Singh had earlier confessed during interrogation that he and Vijender Singh met Kahlon several times since December and bought heroin from him.
The police also found out that Vijender Singh spoke to Kahlon as many as 12 times in a month and Ram Singh over 50 times. Vijender Singh was also a regular vistor at Kahlon's house where police recovered a huge amount of drugs.
The police have arrested five more people - Sunil Katyal, Manpreet Singh alias Mani, his friend Gabbar Singh, and two more persons - while carrying out several raids to nab Jagdish Bhola, the alleged ring leader of the drug racket.