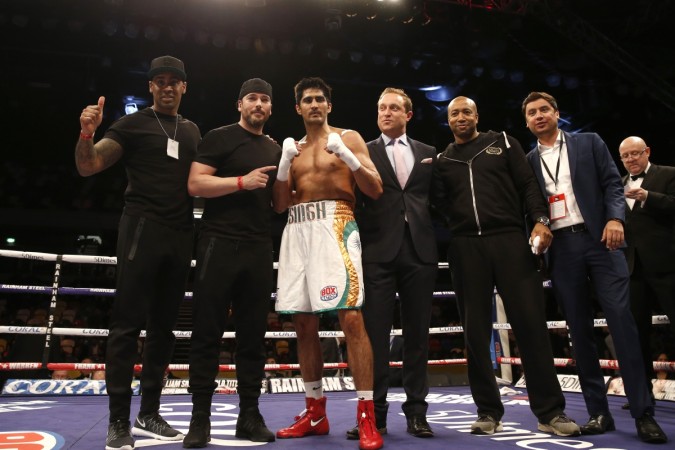 India star boxer Vijender Singh, who has been sending shockwaves across the pro boxing circuit, will be taking on Poland's Andrzej Soldra in his sixth pro bout. The fight is scheduled for May 13 at the Macron Stadium, Premier Suite in Bolton.
The 30-year-old pugilist, hailing from Bhiwani in Haryana, has exceeded expectations ever since he won his first fight as a pro boxer against Sonny Whiting last October. Vijender fought his fifth pro boxing fight against Matiouze Royer in London on April 30 and won the bout via an emphatic TKO in the fifth round.
Prior to every fight, there remained a doubt if Vijender would eke out yet another win. However, he dashed those doubts from the minds of people in an instant by recording emphatic wins inside the ring.
His next opponent is also an experienced one. Soldra, 31, has been a pro boxer for over five years and he has a record of 12 wins from 16 fights, so far.
"I have seen videos of Soldra he is a good opponent but I am preparing very hard to give him a tough time in the ring," Vijender has been quoted as saying by the Press Trust of India on Saturday. "He's very experienced though and with 16 fights and 81 rounds he's got the advantage over me in that department but I will stop him."
Following this fight, Vijender will take on an unnamed opponent for the WBO Asia title in India on June 11.
"I know this fight is very crucial for me and I need to continue my unbeaten record and it's important that I put on a commanding performance against Soldra to keep on course for my title shot and my homecoming. I am really excited to finish off my sixth fight on a winning note and then compete for Asia title in front of my home crowd".
Soldra, however, on his part, is not willing to allow Vijender to go into his much-awaited title fight in June, with a perfect pro boxing record.
"In fact I will tell you what I will do to him [Vijender], I will smash him to the body to loosen him up and then a right hand to knock him out, just watch me," mentioned Soldra.