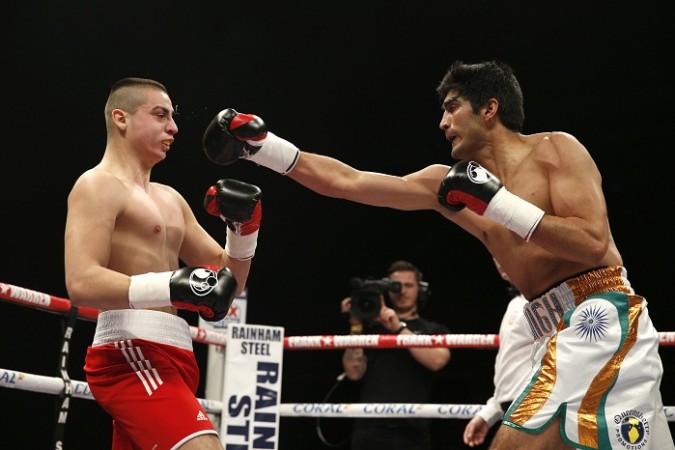 Vijender Singh has had a dream start to his pro boxing career, winning all four fights with considerable ease. The India boxer will be eager to maintain his unbeaten streak as he prepares to fight Frenchman Matiouze Royer at Stratford's Copper Arena on Saturday in London.
The Indian boxer has looked in complete control in his previous four outings, but his fifth bout against Royer is expected to be his biggest test so far. In terms of experience, the French boxer is way ahead as he has been involved in 44 fights, so he knows the tricks of the trade, and will be keen to exploit Vijender's lack of experience in the pro circuit.
There is an air confidence about Vijender in the pro boxing ring, the way he punches the air before the fight when his name is called by the ring announcer. More so, it is his performances inside the ring, which has been superb.
The Indian boxer has a strong jab and an strong right hand, which has the potential to floor top boxers. His movement inside the ring is also brilliant, and he uses his footwork to come out of difficult situations.
Vijender has won all his pro bouts via technical knock outs so far, and another one in London will only enhance his growing reputation as a top boxer. His performances have caught the attention of the boxing hierarchy as well for the 30-year-old will have a shot at the WBO Asia title in June in India, which will be his homecoming.
However, the 2008 Beijing Olympics bronze medallist needs to take it one bout at a time, and focus on the Frenchman at present. Royer's resume looks impressive, as he has also fought against the WBO European Champion Jamie Cox. The bout between the two was an interesting one and the Frenchman only lost via points.
Such performances talks volumes about Royer, who will be keen to hand Vijender his first ever defeat. However, Vijender might see the positive at the other side of his opponent's records, as Royer has lost 24 of his 44 bouts.
Vijender Singh vs Matiouze Royer schedule
Weight division: Middleweight.
Date: April 30, 2016.
Venue: Stratford's Copper Arena, London
Time: 5 pm BST onwards (10:30 pm IST).
TV listings: Star Sports 2, Star Sports HD2 (India), BoxNation (UK).