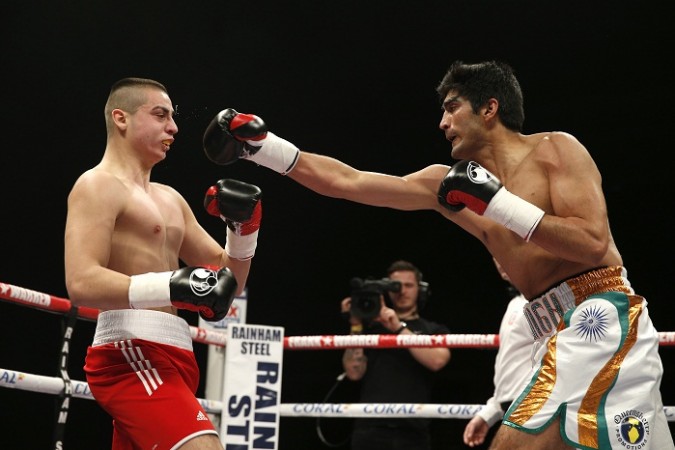 Vijender Singh has taken rapid strides in professional boxing since his debut last year. The shift from amateur to pro boxing is not easy for any pugilist, but the Indian boxer has taken that like duck to water.
Since his first win against Sonny Whiting via knockout, there has been no turning back for the India boxer, who has been winning bouts in a confident manner. In his short span, he has already clinched the WBO Asia Pacific Super Middleweight title, which he will defend against Francis Cheka on December 17 in New Delhi as well.
Vijender, in an exclusive interview with International Business Times, India opened up on several topics including his next fight against Cheka and his desire to become a world number one.
Excerpts from the interview.
International Business Times, India (IBT): You have been impressive in the seven bouts so far as a pro boxer. Which win gave you the most satisfaction?
Vijender Singh (VS): Winning gives me satisfaction. Every fight is a new experience for me. I enter the ring thinking I will win. Since I have turned pro, with god's blessings, I have won all the bouts till date, and that's the most satisfying feeling.
IBT: Francis Cheka, your next opponent, has 300 rounds to his name compared to your 27. Is your lack of experience a major drawback?
VS: Yes, undoubtedly, he is more experienced than me. I have seen his videos, and his fighting style, which is also very different and definitely new for me, but that doesn't mean it is a drawback for me. My style may also be new to him. My moves are also going to be different. I have been training hard for months now, and my punches have become stronger.
IBT: Cheka has already started the war of words, stating he will teach you a boxing lesson. Do such things disturb your preparation?
VS: Not at all, all these things are just to create pressure on the other person so that your opponent gets scared of you. I have been and will always be the good boy of boxing, I will only reply at the ring on the day of the bout.
IBT: What strategies do you have in place to defeat Francis Cheka? Are you looking for a knockout?
VS: Yes, I am also looking for one (knockout). My strategy has always been to get inside the ring and give my 100 percent and win. I don't think that I will do this and do that and get a knockout. I just go with a clear mind, thinking that I have to deliver my best and then wait for the results.
IBT: You possess an incredibly powerful right jab, which you primarily use as a final assault. Why not go all out from round 1?
VS: What is the fun in that, yaar (friend)? I should also give my opponent enough chance he shouldn't feel I've been unfair to him (laughs). I like it when my opponent is tired and finally gives up. That is the right time when I make my final assault.
IBT: The support for you was incredible in New Delhi against Kerry Hope. How much can such crowd help you in a professional bout?
VS: It makes a lot of difference when the crowd is cheering for you. It pushes you to throw those extra punches at your opponent. You know that their hopes are resting on you and you have to give it your best to not break their hope. So yes, it matters I hope this time also a lot of people come out and support me in my title defence.
IBT: Your trainer Lee Beard seems to be a huge motivator. How has he shaped you as a professional boxer?
VS: Lee has been a very important part of my training and my professional boxing career. He changes my training according to my opponent and makes sure that I train harder than the previous fight. The mistakes I must have made in my previous fight are worked upon and all the necessary changes are made in the training process for the next fight. So I owe a lot to my trainer, he works day and night with me to improve my punches to make me stronger and better than the previous bout.
IBT: What is your message for young Indian boxers, who want to go pro?
VS: I suggest they should first get into amateur boxing, fulfil their dreams, win some laurels for their country and then move towards professional boxing. First, I also had a successful run in amateur boxing, won the Olympic medal, Asian Championship, Commonwealth Games and then moved towards pro boxing. Boxing is a great sport and I would love more and more youngsters to join the sport.
IBT: There was some criticism when you first went pro. How has the reaction been from such critics after you have placed India on the global map of pro boxing?
VS: Like I always say, I let my punches do the talking inside the ring. Even in this case after I won all my bouts, those critics have gone mum since my winning streak started. Everyone likes to talk, but when you let your job do the talking, no one has an answer to that.
IBT: Ten years down the line, what dreams do you wish to fulfil as a pro boxer?
VS: My professional career has just started. I am at number 10 right now at the WBO ranking. I want to reach number one for starters and then make India stand out in the global map of professional boxing. I want to be remembered as a great boxer, who made his country proud.