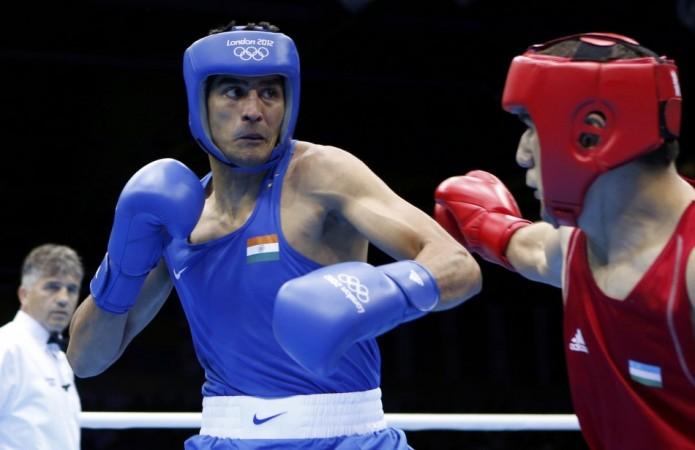 The sports ministry on Monday asked the National Anti-Doping Agency (NADA) to carry out necessary drug tests on Olympic medalist and police officer Vijender Singh in connection with the heroin haul case.
Vijender Singh and fellow boxer Ram Singh were summoned for questioning earlier last month, after drug peddler Anup Singh Kahlon claimed during a police interrogation that they were his clients.
The 29-year-old boxer and Deputy Superintendent of Police (DSP) from Haryana had earlier refused to give his blood and hair samples to the police for further investigation. The police claimed that he did not co-operate with them during the probe and would move the court to get the tests done.
However, Ram Singh, a head constable in Punjab Police, had given his blood and hair samples for forensic rest. He was also dismissed from his post on 28 March.
Vijender has denied using drugs but the police said that he had taken drugs nearly 12 times between December 2012 and February 2013. They also found that the boxer knew the alleged drug dealer Kahlon, and had spoken to him on phone at least 80 times.
The drug haul came to light after authorities arrested Anup Singh Kahlon and Kulwinder Singh for possessing 540 grams of heroin on 3 March. Upon further investigation, 26kg of heroin worth ₹130 crore was recovered from Kahlon's flat in Zirakpur of Mohali district.
Kahlon confessed during the interrogation that he had met Vijender Singh and Ram Singh several times and supplied small quantities of heroin to them.
Suspicions about Vijender's links with drug peddlers grew even further after a car registered in his wife's name was found outside the flat where heroin worth ₹130 crore was recovered. Ram Singh told the police that he and Vijender had met Kahlon several times and taken drugs.
The police have arrested at least 15 people in connection with the case while many are still absconding.