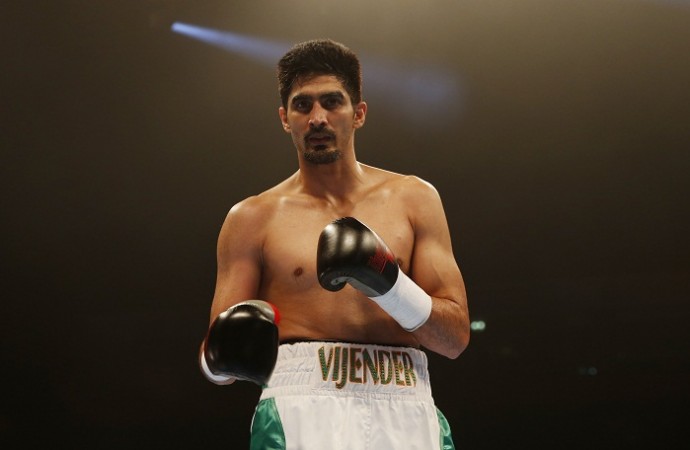 Vijender Singh continued his impressive run in the pro circuit as he Saturday defeated Hungary's Alexander Horvath for his fourth consecutive pro bout win at the Echo Arena in Liverpool. Now, Vijender has set his sights on the WBO Asia title, for which he will fight in India in June.
The Indian boxer was in ominous form against Horvath, whose method of preparation was very different. The Hungarian boxer drank snake blood and even talked about handing Vijender his first defeat. Vijender, as usual, did the talking with the gloves inside the ring, and did it well.
The first round saw Vijender cool and composed against Hovrath's quick movement, but throughout the fight, Vijender used his height to good advantage and evaded punches, while throwing some of his own.
Vijender gradually grew stronger as the fight progressed. On the other hand, Horvath was getting tired. In the third round, when Vijender looked mighty, the India boxer threw some strong punches and floored Horvath, who was counted out as he could not stand up after the blow.
With such precision, Vijender is showing signs he is getting into the groove of pro boxing after turning professional last year.
Prior to this fight, Vijender had defeated three boxers — Sonny Whiting, Dean Gillen and Samet Hyuseinov — but this victory against Horvath should be considered a huge one, as the Hungarian boxer was more experienced than Vijender.
Vijender is gradually earning a name in the pro circuit with such performances. He will fight two more bouts in April before heading to India for the WBO Asia title decider.
"It's a good start for me, beginning 2016 on a winning note. I am happy at registering a knockout win. I think this is a great start for me ahead of my fight in India in June this year," IBN Live quoted Vijender as saying.
"My target is to win the Asia title in front of my home crowd, and [I am] looking forward to register two more knockout wins in April before I play in India. I would like to thank Indian fans in Liverpool and all supporting me on digital media."