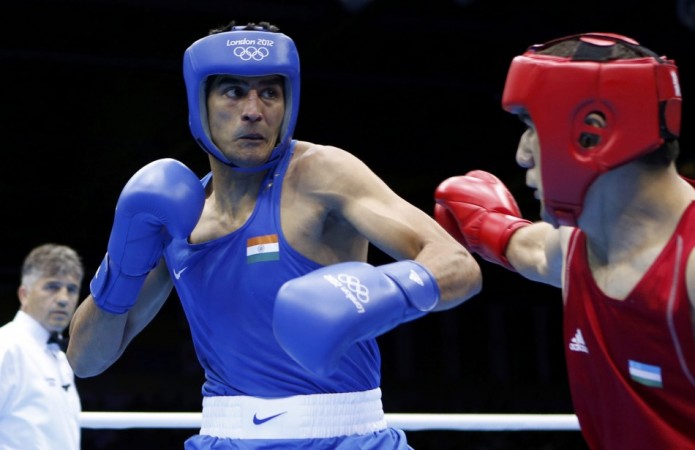 Indian boxer, Vijender Singh, was on hand to get a taste of what is to come as he watched the WBA World Super-Middleweight Championship fight between defending champion Fedor Chudinov and challenger Frank Buglioni at the SSE Arena in Wembley, London on Sunday.
Just a few days remain for the pugilist before he makes his debut in the ring as a professional boxer on 10 October at the Manchester Arena in an undercard fight, when Terry Flanagan defends his WBO World Lightweight title against Diego Magdaleno.
However, after witnessing the fight between Chudinov and Buglioni, where the former won with the score reading 120-106, 118-108 and 117-109, Vijender's confidence has increased for his 10 October fight.
"It was really an electrifying experience for me to watch live title fight of WBA World Super-Middleweight Championship here in London and it has boosted my confidence ahead of debut in the professional circuit which is scheduled after 10 days," PTI quoted Vijender as saying.
Vijender has a strong desire to make it big as a pro boxer, as he wants to inspire youngsters from India to take up the same. Other boxers from India such as Gurcharan Singh and Dharmendra Yadav had gone pro in the past, but they were not able to garner major success.
Vijender is aware of the difficulties that lie ahead. With pro boxing primarily dominated by athletes from the USA and European countries, it is going to be an uphill task for the Indian. Hence, the Indian boxer has been training hard in Manchester to get to full fitness ahead of his debut on 10 October.
"I am really excited and eagerly waiting for making debut with a winning start in professional ring," Vijender said. "I am working hard physically and mentally for 8-10 hours to prepare myself for this new challenge."
As an amateur, Vijender achieved a lot in his career, including silver medals in the 2006 and 2014 Commonwealth Games in Melbourne and Glasgow respectively. The Haryana boxer also won a bronze in the World Championships in Milan in 2009. However, Vijender's major achievement was a bronze medal finish in the 2008 Olympics in Beijing.
But, participating in the professional level is a completely different affair as the level of boxing is quite a few notches higher.
"Professional boxing is altogether a different level wherein not only boxing fans but also Hollywood personalities come to cheer their favourite boxers," Vijender added.