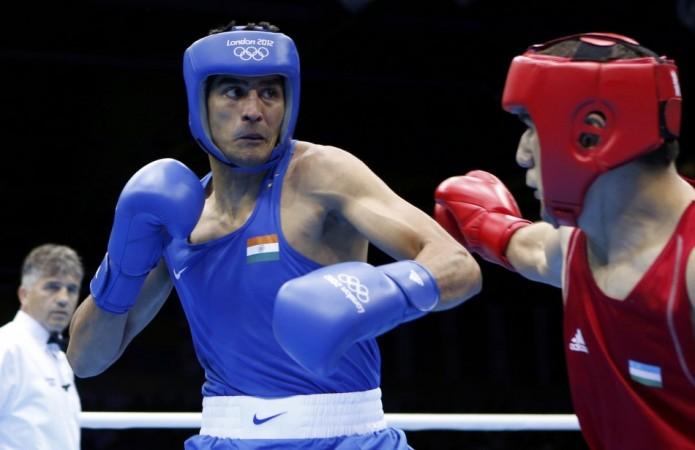 Boxer Ram Singh, who was interrogated by Punjab police in connection with ₹130 drug scandal, has reportedly confessed that he and Olympic medalist Vijender Singh had met drug dealer Anoop Singh Kahlon and purchased some amount of heroin from him, NDTV reported.
Ram Singh, a Punjab police head constable, was summoned to Fategarh Sahib for questioning after Kahlon told police during interrogation that he had supplied drung to the boxers. He was undergoing training at the National Institute of Sports in Patiala when he was called for interrogation.
Ram Singh told police that he and Vijender met Anoop several times since December but they are not regular drug users. He also alleged that former police inspector and wrestler Jagdish Singh Bhola is the kingpin of the racket.
Vijender has not been summoned for questioning in the case yet.
During the raid that happened last weekend, Vijender's wife Archana's car was found outside the drug peddler's flat, but the boxer denied any links with Kahlon, claiming that his name had been unnecessarily dragged into the case.
"My name is unnecessarily being dragged in this drug smuggling scandal. TV channels are talking about the car link but nothing was recovered from it. I was in Mumbai for two days when the raid took place and my wife Archana had dropped me at the Chandigarh airport on Tuesday. The car is registered in her name and sometimes my friends in boxing circles use it when I am away," Vijender told The Times of India on Friday.
The boxers' name came up after Anoop, an NRI, and Kulwinder Singh were arrested on Sunday for possession 540 g of heroin. Upon further investigation, 26 kg of heroin worth ₹130 crore was recovered from a flat owned by an NRI businessman in Zirakpur.
"We have recovered 26 kilograms of heroin from two smugglers. This is worth ₹130 crore. We are expecting more recoveries in coming days. This is a very big scandal. These NRIs have built an international chain," SSP Fatehgarh Sahab Hardyal Mann Singh told CNN-IBN.
The accused told the police that he sold small amounts of heroin to the boxers.