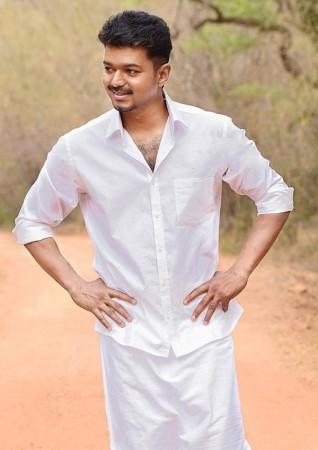 The Tamil film industry is abuzz with the news of Vijay's leaked picture from the sets of "Puli". As per reports, the look was posted by someone who managed to sneak into the sets.
Within minutes of uploading, the photo has gone viral on social media. The makers were very secretive about the character descriptions as well as other details of the movie.
As a result, there were a lot presumptions and gossips regarding the movie that has also made the look of the film one of the most awaited.
However, the leak did not go well with the cast and crew. Actress Vidhulekha Raman, who is also part of "Puli", tweeted that the whole team is upset about the incident and is trying to find out a solution for this.
Highly disappointing and irritating to see leaked photos of #Puli ... Entire team is very very upset. Getting to the bottom of this asap

— Vidyu (Vidyullekha) (@VidyuRaman) April 21, 2015
They had planned a nice first look 4 everyone. Heart sinks when we protect it for 6 months and in the last minute this happens. #Puli — Vidyu (Vidyullekha) (@VidyuRaman) April 21, 2015
Many in the industry have also condemned the leak and requested those who shared the pictures on social media to delete it.
"Puli", directed by Chimbu Devan, is Vijay's costliest film till date. The movie is said to be made with a budget of more than ₹100 crore and has big star cast including Shruthi Haasan, Hansika Motwani, Sudeep, Sridevi Boney Kapoor, Prabhu, Vijayakumar, Thambi Ramaiah, Aadukalam Naren, Joe Malloori, Ajay Rathnam, Sathya, Karunas, Imman Annachi, Robo Shankar, Vidhyulekha Raman, and Jasper.
#Puli #Ilayathalapathy that 100 plus crores have been invested and THEY would like to reveal it appropriately. Irresponsible. so sad.

— Mohan Raman (@actormohanraman) April 21, 2015
APPEAL TO ALL WHO TWEETED THE SNAP - Please delete/remove your tweet before further damage is done. Vijay fans DONT tweet the snap. RT THIS — Mohan Raman (@actormohanraman) April 21, 2015
Releasing a "stolen" snap is 1/24 of releasing a Thiruttu Video. One out of 24 frames. Media sites please use only officially released ones.

— Mohan Raman (@actormohanraman) April 21, 2015
What happened to Vijay may happen to Rajini,Kamal,Ajith,Dhanush or Suriya tomorrow. We need to have ethics and discipline - PROTECT ALL. — Mohan Raman (@actormohanraman) April 21, 2015