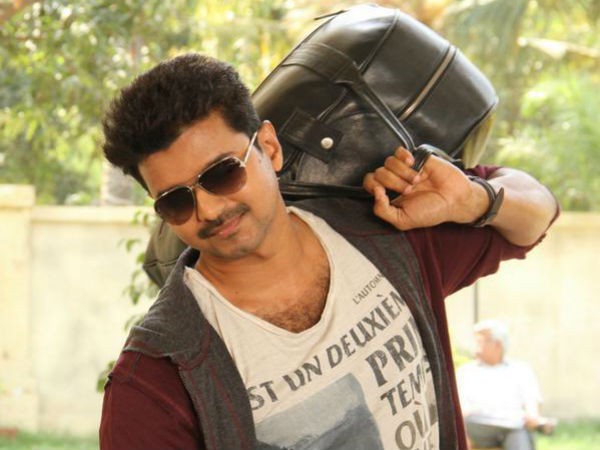 Ilayathalapathy Vijay fans were in for a surprise when the actor took to Twitter to have a candid chat with them on Saturday.
From Cola controversy to Kaththi release issue, Vijay answered to questions posed by his fans.
A fan questioned, "You did cola advertisement b4 and now you are talking against them in kaththi. Isn't it hypocritical?
The actor replied, "Yes I did an ad earlier...most of the big Indian celebrities like sachin, aamir khan also were brand ambassadors.. I don't endorse the brand anymore. When I heard kathi script it did make sense to me and I voiced it through Jeeva character... feel happy to have done that now. Ennoda thavarugalai thiruthikolgira saadharna manushan dhaan naanum," Vijay tweeted.
"I would be extremely happy if people start questioning political parties like this when they make electoral alliances," he further said.
Another fan posted, "What is your mindset when your movies are being targeted in recent times?"
Vijay replied in a tweet, saying, "It is just not about me or my mindset.. I feel sad for all those people who worked behind every film made."
Regarding "Kaththi" issue, the actor recalled, "They said that the film will not release. They broke the windows of the theatres. They did not open bookings until midnight 12. Yet, the film is said to have minted 100 crore in just 12 days."
A fan asked, "So many issues yet u r so calm and determined, wer do u get that strength?" the for which the actor responded, saying, "silence is the source of great strength."
When asked, "Where do you see yourself in 10 years from now?" Vijay replied, "I believe in the BOOK OF LIFE written by God. I really don't know what is in the next page for me. I have lived my pages happily so far and don't want to know what is in store for me. Ennoda kadamaiya correct-a panna aasai padurain...palana edhiparkama! (I would like to perform my duties properly without expecting any rewards)"
Regarding fan-fights in social media, Ilayathalapathy said, "Yes I'm aware & it's unfortunate. I request my fans to stop this & focus their energy more in social issues and show strength."
Some Interesting Tidbits
Of all the films that he has done, he has worked in 28 films with first-time directors.
Drishyam (Malayalam) and Jigarthanda are Vijay's favourite films in the recent times.
The actor later ended the chat by thanking his fans.
Thank you ppl, sorry I couldn't answer everyone .. will soon do it again. En nenjil kudiyurukum anbu rasigargaluku nandri . Luv -Vj

— vijay (@Vijay_cjv) November 8, 2014