The teaser of Vijay's 'Puli' teaser has been released at 2 pm on Sunday, 21 June. In no time, the clip has gone viral on internet. [Find the Video Below]
Click Here to See the First Look | Fan Made Poster of 'Puli'
'Puli' teaser is packed with eye-pleasing visuals, Vijay's electrifying screen presence, action sequence etc. It is a colourful video, which gives a glimpse of major characters in the movie including Sridevi, Kiccha Sudeep, Shruti Haasan and Hansika Motwani.
Ilayathalapathy is the biggest attraction of the "Puli" teaser. Yesteryear actress Sridevi as the queen of a kingdom leaves a good impression and Kiccha Sudeep impresses as the antagonist. Shruti Haasan and Hansika Motwani, with their blink-and-miss appearances are eye candies in the clip.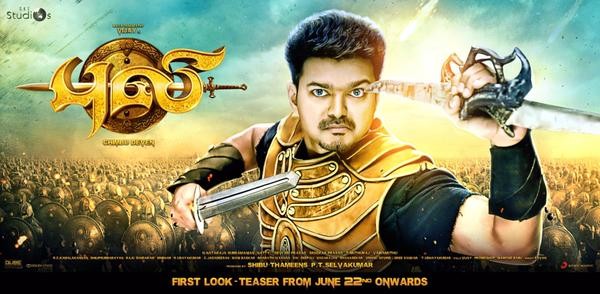 The teaser clear shows that "Puli" is rich in every aspect. It is a fantasy adventure movie that is made with huge budget.
It was earlier said that the video clip would release on the midnight of 21 June. But the makers changed their decision after the teaser was leaked online by some miscreants. It appears like the video clip was secretly filmed at the mixing video. It has spread on WhatsApp like a wildfire.
Meanwhile, the fans of Vijay, who curiously looking forward for the release of "Puli" teaser, are thrilled by the clip. It has taken them by storm and the video clip has gone viral on internet.
On the other, the first look poster of "Puli" was released on the midnight of Saturday, 20 June. It has also met with great response and people have praised Vijay's look to heavens.
"Puli" is directed by Chimbudevan and jointly produced by Shibu Thameens and PT Selvakumar.