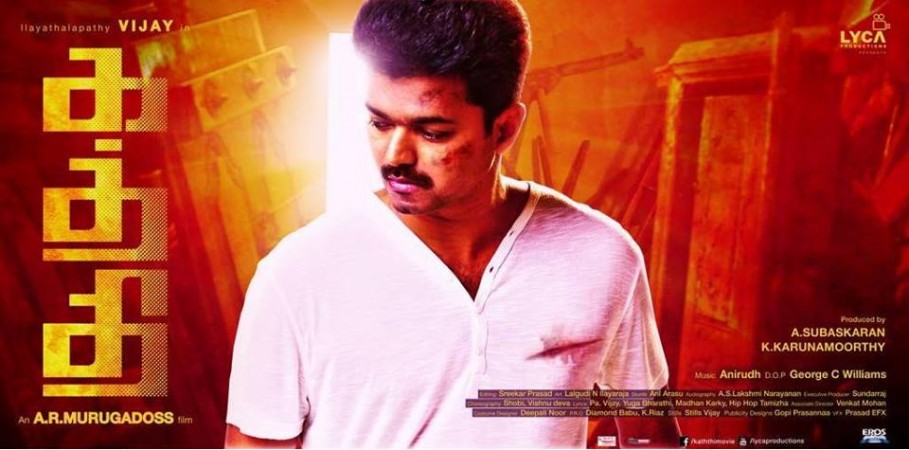 The trailer of Vijay-Samantha's "Kaththi" has received overwhelming response on the net. (Scroll down to see "Kaththi" trailer)
After much anticipation, "Kaththi" trailer was released at 6 p.m. on Sunday (19 October). As soon as the 96-second video hit the net, it created frenzy among Vijay fans. It has gone viral and has crossed the 10 lakh mark (1 Million views) within a day.
The trailer looks interesting and is set to be a commercial entertainer with all the key elements including action, thrill, punch dialogues, romance and comedy. Vijay's dialogue delivery, Neil Nithin Mukesh's stylish looks and his Tamil dubbing, Samantha's charming looks, cinematography by George C Williams and Anirudh's background score are some of the major highlights of the trailer.
The video does not reveal much except that Vijay plays the saviour of village people, while Neil Nithin appears in the role of a corporate guy. There is nothing much known about other Vijay's character in the trailer. "Kaththi" does appear to convey a social message similar to Murugadoss's "Ramana."
The trailer is sure to kindle curiosity about the film's subject and raise the expectations surrounding the project.
It will be a double Diwali treat for Vijay fans on festival day with "Kaththi" hitting theatres and the actor's last release "Jilla" getting screened on Sun TV. Advance booking for the film has opened in some screens, while complete reservations are yet to start. It is expected to commence on Monday(20 October) evening.
"Kaththi" will reportedly have record release in Malaysia, US, UK, France and Norway. It will be releasing in around 1,500 screens with its screen count in Tamil Nadu to be around 450. The film is all set to take grand openings on the first day of its release despite clashing with Vishal's "Poojai," which is expected to release in around 1,100 screens.
Earlier, there were reports that the Telugu version of "Kaththi" will be releasing simultaneously with the Tamil version. But, it has now been confirmed that the Telugu dubbed version will be releasing on 31 October.