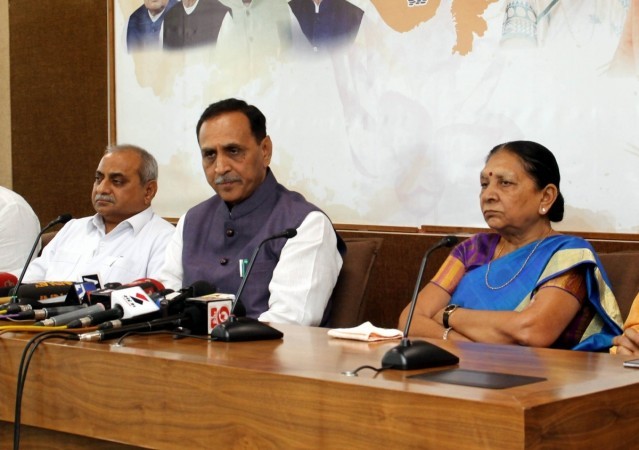 Vijay Rupani was sworn-in as the new Chief Minister (CM) of Gujarat. Nitin Patel who was earlier considered as the top contender for the post of CM was sworn in as the Deputy CM, at a ceremony attended by top BJP leaders.
Rupani and Patel were administered the oath of office and secrecy by Governor O P Kohli.
Eight Cabinet-rank ministers, including Nitin Patel, and 16 Ministers of State were administered oath in the presence of top BJP leaders including its president Amit Shah, party veteran L K Advani, Union Finance Minister Arun Jaitley, Union Science and Technology Minister Harsh Vardhan, Maharashtra CM Devendra Fadnavis, Jharkhand CM Raghubar Das and Haryana CM Manohar Lal Khattar.
The total size of the Council of Ministers, including the CM and Deputy CM now stands at 25. Nine ministers from the previous Cabinet, including some considered as loyalists of outgoing Chief Minister Anandiben Patel, have been dropped.
Former Minister of State for Home Rajnibhai Patel and Women and Child Development Minister Vasuben Trivedi have been dropped from the new Cabinet.
Rupani, who served as the Transport Minister in Anandiben Patel's Cabinet was selected as chief ministerial candidate after Anandiben Patel had submitted her resignation to the Governor on August 3.
The veteran's elevation to the top post, also seen as recognition of his Jain community among other things, is representative of his closeness to BJP chief Amit Shah.
The 60-year old also tweeted and shared his thoughts on twitter. He also thanked Prime Minister Narendra Modi and Anandiben Patel on twitter.