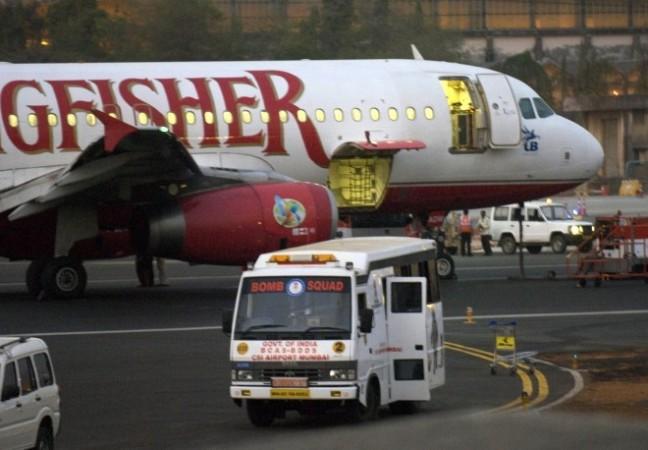 The closed-door meeting between the Kingfisher airlines' management and striking employees on Monday to break the long-standing impasse reportedly failed with the employees rejecting the latest offer by the management.
It is reported that the airlines management offered the employees that three months' salary would be paid before Diwali but the employees rejected it, demanding four months' salary withing a day or two.
Kingfisher CEO Sanjay Agarwal said that they would give time to the employees to consider the offer. "Our offer of three months salary is fair. Our intent is to get the employees back to their work. We will give them a day or two to think over and consider our offer," CNN IBN quoted Sanjay Agarwal as saying.
Kingfisher airlines has reportedly not paid seven months' salaries of its employees since March this year.
If Monday's talks fail, the striking employees will launch a nationwide protest and try to confront Chairman Vijay Mallya at the F1 track in Greater Noida, where the races are slated to begin on October 26, CNN IBN quoted airlines sources as saying.
Pilots and employees of the airlines called for a massive protest on Sep 30 over the non-payment of salaries, leading to a complete shutdown since Oct 1, prompting the aviation regulatory to take the extreme step of suspending its flying licence.
Adding woes to Managing Director Vijay Mallya's bad times, Directorate General of Civil Aviation (DGCA) on Saturday suspended licence to fly to Kingfisher Airlines, after citing the response of Kingfisher to the concerns of the aviation regulatory as unsatisfactory.
DGCA sought airlines to provide viable reasons on why its flying licences should not be cancelled. Although, the Kingfisher officials submitted their explanations on time, the response were not good enough to refrain the aviation regulatory authorities from suspending its flying licence. On top of it, airlines also sought to buy more time to come up with effective future operational and financial plans.
The aviation body contended that debt-stricken airlines failed to convince it as it didn't address the core concerns raised by the DGCA.