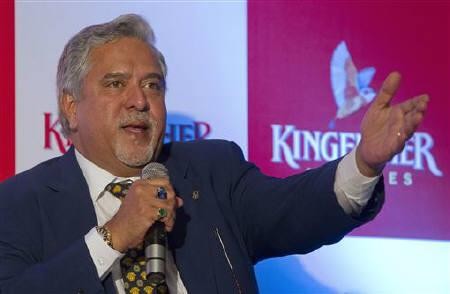 Kingfisher Airlines Chairman Vijay Mallya took a dig at State Bank of India (SBI) Chief Pratip Chaudhuri for his constant interaction with the media over the bank's loan recovery from the grounded airline.
The liquor baron burst out at Chaudhuri by posting two back-to-back tweets on 19 March.
"I seriously wonder what motivates Bank Chairmen 2 constantly speak 2 media on loan recovery frm Kingfisher Air.What about others?" Mallya tweeted.
On Tuesday, Chaudhuri informed reporters that SBI, one of the key lenders to the debt-struck airlines, is considering all possible measures to recover the whopping loan amount from Kingfisher Airlines.
"We are blazing all guns and taking all steps to recovery (of Kingfisher loans)," Press Trust of India quoted Chaudhuri as saying.
Chaudhuri's statement coincided with Finance Minister P Chidambaram's push for banks to take adequate measures on recovering loans from wilful defaulters.
"The country cannot afford to have affluent promoters and sick companies," Chidambaram said after meeting heads of PSU banks and financial institutions in New Delhi on Tuesday.
Hitting back at Chaudhuri's comment and asking why Kingfisher should not be given a chance to resume operations, Mallya tweeted, "SBI Chairman - All guns blazing on Kingfisher loan recovery. All my guns blazing on restart/rehabilitation. Why should v b denied a chance? (sic)."
Kingfisher Airlines has been grounded since October 2012 and lost its operation permit after its licence expired on 31 December.
The airlines has a debt of around ₹8,630 crores, out of which it owes ₹7,500 crore to a consortium of 17 public banks.
Earlier, in a bid to resume flight operations the airlines management had submitted revival plans to the Directorate General of Civil Aviation (DGCA).
However, the aviation regulatory rejected the revival plans stating that Kingfisher did not come up with a feasible proposal for the company to pay due salaries to the airlines' employees in addition to the unsettled dues to lessors and banks.