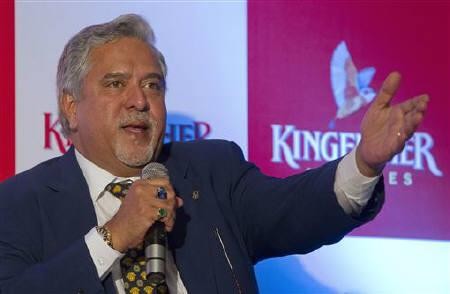 Liquor baron and Kingfisher Airlines owner Vijay Mallya faces arrest after a Hyderabad court on Friday issued a non-bailable warrant against him in connection with a cheque bounce case.
The court issued a warrant against Mallya and five other executives after GMR Hyderabad International Airport Ltd (GHIAL) filed a complaint that a cheque worth ₹10 crore issued by the airlines had bounced.
Kingfisher Airlines owes over ₹10 crore to GMR, which manages Rajiv Gandhi International Airport in Hyderabad, for airport charges including parking, landing and navigation.
The airlines is said to have issued four cheques for ₹10.3 crore to GMR as airport charges but all of them bounced, forcing the infrastructure enterprise to file a case against Mallya and his executives.
It may be recalled that GVK Group, which manages the Mumbai International Airport, had earlier filed a similar case against Kingfisher Airlines after a cheque issued to them bounced.
The cash-strapped airlines has been in deep trouble off late with all its flights been grounded since the beginning of October following a stir from employees over non-payment of salary since March.
The Directorate General of Civil Aviation (DGCA) had earlier asked the airline to provide a reason on why its flight license should not be cancelled.
Kingfisher Airlines has not made profits ever since it was launched in 2005 in spite of being India's second-biggest airline at that time. The estimated debt of the company is believed to be over $1.4 billion (around ₹7400 crore)