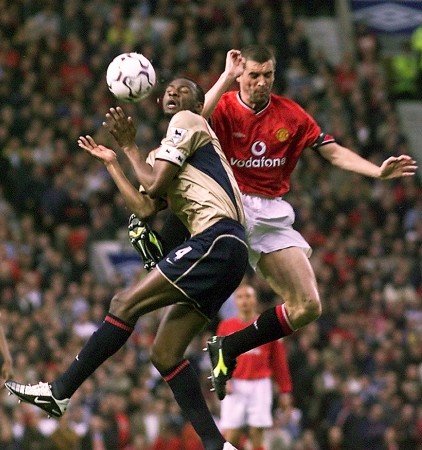 Former Arsenal captain Patrick Vieira reckons he would have beaten former Manchester United skipper Roy Keane in a fight despite the former Irish international being a tough opponent.
The duo was involved in numerous scuffles for over a period of ten years when Manchester United and Arsenal were the most dominant clubs in England.
And Keane, who is currently working as the assistant manager at Aston Villa, revealed in his new autobiography – "The Second Half" – that Vieira would have easily beaten him had they gotten into a physical fight when they were playing for their respective clubs.
Vieira, who is currently Manchester City's reserve team manager, agrees that he would have beaten the Irishman in a fight even though he admits that Keane would not have given up easily.
"No I haven't read it, but I have heard a lot about it," said Vieira, according to the Daily Mirror. "If there was a fight, it would take a long time to beat him and I would end up with a few cuts. I don't think he would give up easily!"
The 38-year-old Frenchman also insists that he is not taken aback by Keane's frankness in his new book.
"I'm not surprised at all about how honest he has been in the book. That's because the way he wrote the book is the way he was as a player," added Vieira. "He's not the kind of person to go halfway – he's either everything or nothing. I think the book is him."
Vieira says that he always loved playing against Keane because he feels that the Irishman and he possessed "similar qualities as players."
"We had similar qualities as players," said Vieira. "We were both determined, we wanted to win, and we were both leaders of our teams. That's why I always loved to play against him."
However, despite their rivalry on the pitch, the former Manchester City defender insists that they had mutual respect for each other.
"We challenged ourselves, we battled, but we always retained respect for each other," added Vieira.