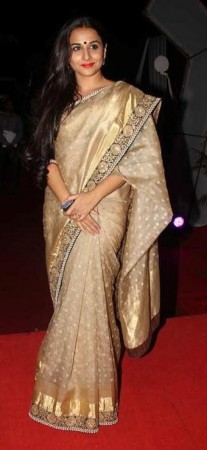 After playing a super hot role in "The Dirty Picture", actress Vidya Balan will be seen playing the role of a homemaker in "Ghanchakkar".
According to IANS, the 34-year-old actress expressed hopes that the character she will portray in the Rajkumar Gupta-directed flick will help change people's perceptions about housewives.
"I play a Punjabi housewife in 'Ghanchakkar' and hopefully, I, with this one, will put to rest the notion that housewives are boring. That's a very huge misconception and I hope people realise that after 'Ghanchakkar'," the actress said to the news agency.
"Ghanchakkar" is a comedy film where Balan would be once again be seen sharing screen space with Emraan Hashmi after their successful pairing in "The Dirty Picture".
About her chemistry with Emraan, she said, "I think 'Raaz 3 (secret) of our chemistry is that we may have said three words to each other in 'The Dirty Picture', but in this one we have said six words. So, it should probably double the chemistry between us."
"Ghanchakkar" is said to be a sequel of 2006 hit "Pyaar Ke Side Effects". The actress had previously worked with Gupta in "No One Killed Jessica".
According to earlier reports, Gupta hopes to wrap up the film's shooting by December and is looking for a release early 2013.
Apart from Balan and Hashmi, director Gupta is seeking fresh faces especially with a theatre background.
"We are looking at new faces from theatre and from other sources. We've auditioned dozens. With Vidya and Emraan in the cast, I need untried talent to balance off their huge stardom. Besides Emraan and Vidya, there are two major characters, both male, plus dozens of supporting parts," he said according to The Times of India.