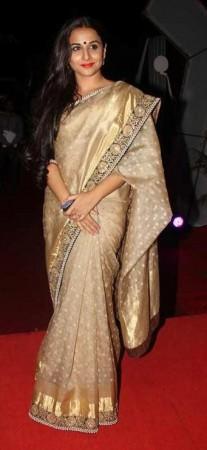 The sari is said to be the sexiest outfit that best suits an Indian women's curvaceous frame, and surprisingly the only Bollywood actress in today's time who takes pride in the traditional six-yard drape is actress Vidya Balan.
Not many celebs are seen carrying the traditional Indian attire with the same elegance and grace that Vidya does with her classic Kanjiwaram silk saris as seen at several award functions and high profile parties.
She has remarkably set a trend for the sari and brought it back in vogue, when everyone else is busy running the rat race of skin show.
Since the actress has as a huge fan following down south, Vidya has bagged an endorsement deal for whopping ₹50 million.
The Silk Smitha of "The Dirty Picture" will now be seen endorsing a well-known Chennai-based silk sari label as brand ambassador.
"Vidya today represents the quintessential Indian woman. She stands out far apart from the crowd. She brought saris 'back'," Swati Iyer of Bling! Entertainment Solutions said according to IANS.
"She not only dazzles in saris but is also astoundingly self-assured to follow a path charted out only by her at a time when everyone is sporting similar looks," she said.
The celebrity management company has in fact labeled the classic Indian beauty as India's Meryl Streep.
"Internally, we have positioned her as India's Meryl Streep. To a movie going audience worldwide, if the venerable Ms Streep's name is in the titles, it is a reason enough to watch the film. We believe that Vidya is now in that league in India by a unique combination of critically acclaimed performances in box office success," the owner Atul Kasbekar said.