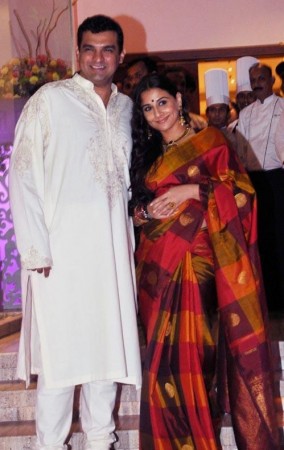 Actress Vidya Balan, who has been hogging limelight for her personal life in the recent times, has refuted reports of trouble in her marriage.
It was recently reported that the actress' one-and half-year-old marriage to Siddharth Roy Kapur is under strain as the later is said to have gotten friendly with a new actress. The tabloids had further claimed that Balan was quite upset and had dropped her work commitments to keep a tab on her better half.
But the "Kahaani" actress has now slammed the reports and stated that she and Kapur are happily married.
"We are happy with each other. There is no chink in the armour," the actress told Hindustan Times. She explained that Kapur's friendship with another actress is "a figment of someone's imagination."
Balan, who has also made headlines with pregnancy rumours seemed quite irked with the gossip surrounding her personal and professional life.
"I think these rumours started because I opted out of Sujoy's (Ghosh, director) film, and IIFA awards. I said that there's a niggling health issue. But people said, 'Maybe it's not'... I think it's just extremely judgmental. May be people can't stomach the fact that an actress will actually take a break. It's amusing, the kind of stories floating around. One week, I'm pregnant; the next week, there's a problem; the week after, I'm unprofessional," she quipped.
Meanwhile, the actress refused to divulge any details about her health but explained: "It's not a big health issue, but it needs attention, and probably some lifestyle changes."
The 36-year-old further revealed that despite her rejection of Sujoy Ghosh's "Durga Rani Singh", she is still on good terms with the filmmaker. She added that she is presently on a brief break and will be back promoting her next film "Bobby Jasoos" soon.
[ED:VS]