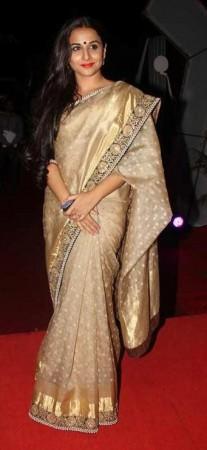 Actress Vidya Balan has been chosen as the brand ambassador of Indian Film Festival of Melbourne (IIFM) for the second consecutive year.
Vidya was quoted by ANI as saying, "It gives me great pleasure to be the brand ambassador for the second time in a row. It has become like a sense of ownership now not just with the festival but also with the place. When anyone mentions Melbourne I feel like they are mentioning home."
The IFFM (2013) which will take place 3-15 May will celebrate 100 years of Indian cinema. The festival will showcase remarkable films of Indian cinema like "Raja Harishchandra" (1913).
Minister of Innovation, Services and Small Business, Louise Asher said on the occasion, "The Indian Film Festival of Melbourne is a wonderful demonstration of our growing cultural links and shows the creativity and innovation that Melbourne and Mumbai are both famous for."
Vidya of "The Dirty Picture" fame was elated at being conferred as the ambassador again and said, "I would like to say this to the honorable minister that I hope you sign like a life time Brand Ambassador Deal with me making sure that I can keep coming back to Melbourne every year."
She wished to shoot a film in Melbourne and added, "It's one of the warmest places in the sense the people, the way they receive Indian films. There openness in terms of Indian culture and everything Indian. So I am extremely overwhelmed."
The 13-day-film festival will also honour legendary filmmaker Yash Chopra with a Lifetime Acheivement award.
The event will come to an end with the Australian premiere of Mira Nair's political thriller "The Reluctant Fundamentalist".