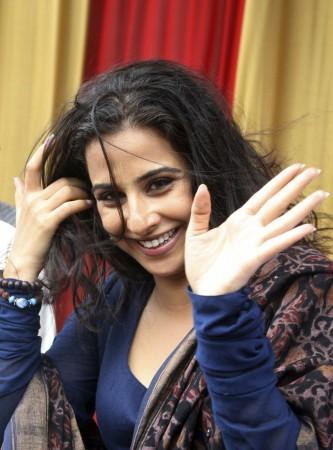 Actress Vidya Balan is all set to take up a sultry avatar again in her upcoming project "Ghanchakkar", which also stars Emraan Hashmi.
After the epic success of "The Dirty Picture" (TDP), in which Vidya played the glamorous "Silk", it is now "Ghanchakkar", where she will be seen setting the screen on fire with Emraan Hashmi once again.
Vidya plays a simple housewife in the film, however, the actress is required to transform into a hot avatar as the film is reported to include some kissing scenes between her and Emraan.
"They want Vidya to be sultry and completely dissimilar from what she looked like in TDP," an insider told Hindustan Times (HT).
According to reports, Vidya will travel to US or UK to meet makeup artists for a 'special test'. The movie's director Raj Kumar Gupta confirmed that the make-up team is aiming at a drastic new look for Vidya. However, Gupta refrained from commenting any further about the make-up test.
"Yes, Vidya will go to the US or the UK, we haven't decided the destination yet. As of now, I can only reveal that we are aiming for a different look for her. I can't reveal anything else because we're still working on things. The audiences will be surprised," he told the HT.
Earlier, "Ghanchakkar's" shooting, that was said to begin in September, was advanced by a month with Emraan's availability dates now in line with the film's shooting schedule.
Gupta, who made his debut with the critically-acclaimed "Aamir" film, has planned to shoot some of the leading couple's scenes with secret cameras in guerrilla-style during the monsoon season in Mumbai.
The director has already worked with Vidya Balan in his second movie "No One Killed Jessica" which was based on the Jessica Lall murder case. While his first two movies were crime thrillers, his "Ghanchakkar" is expected to be a comic thriller.
The film is likely to release in the first quarter of 2013.