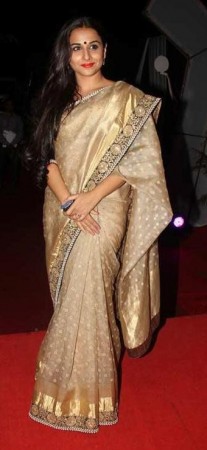 Adding another feather to her hat, Vidya Balan has been invited to join the 66th Cannes Film Festival jury along with Academy award winning filmmakers Ang Lee and Steven Spielberg, reported PTI.
Vidya will join the panel of judges which also include Nicole Kidman, Christophe Waltz, Japanese director Naomi Kawase, Scottish director Lynne Ramsay, French actor-director Daniel Auteuil and Romanian director Cristian Mungiu.
Vidya, known for her unconventional roles in "Dirty Picture" and "Kahaani", will judge 19 films for the most highly prized Palme d'Or award.
Actress Nandita Das will also act as judge for the short films category at the festival.
This year, Cannes will also celebrate 100 years of Indian cinema with the screening of four Indian movies - "Bombay Talkies", "Ugly", "Dabba" and "Monsoon Shootout".
Meanwhile, Amitabh Bachchan-Leonardo DiCaprio starrer "The Great Gatsby" is going to premiere on 15 May 15 as the opening of the festival.
Big B's daughter-in-law Aishwarya Bachchan will be attending the festival on a special invite. The actress was also once a Jury member at Cannes in 2003.
On the news of Vidya being chosen as a Cannes jury member, director Anurag Kashyap tweeted, "Vidya Balan on cannes jury... awesome."
Kashyap's film "Dabba" has been selected for Cannes Critics' Week, while his "Monsoon Midnight" and "Ugly" will be screened at Midnight Screening and Directors' Fortnight of the festival, respectively.
The 11-day Cannes Film Festival will begin on 15 May.