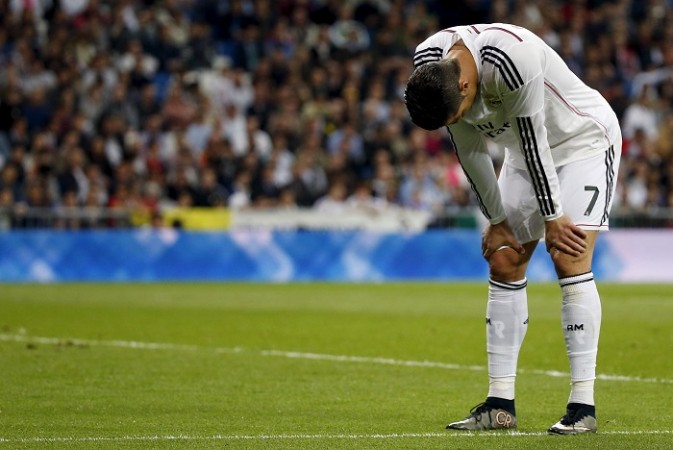 If there is one thing that is not usually associated with Cristiano Ronaldo, it is a that he is a team player. The Portuguese has often been accused, rightly or wrongly, of thinking more about his stats and his spotlight rather than the team's, even if it is largely because he scores those goals, oodles of them, and makes those assists, that his team keep winning.
However, during Real Madrid's 3-0 win over Almeria in La Liga on Wednesday, Ronaldo showed that streak of selfishness, which has often been used as a stick to beat him with.
Leading 2-0, after a sumptuous volley from James Rodriguez and an own goal from Mauro Dos Santos, Alvaro Arbeloa made it 3-0 in the 84th minute, tapping home into an empty net after a precise low cross from Javier Hernandez.
That goal should have, and would have, just been another reasonably big talking point in an eventually comfortable win for Real Madrid, if not for Ronaldo's reaction to that goal.
The problem was just behind Arbeloa was Ronaldo, also waiting to stick the ball into an empty net and get that goal he always wants in a match. With Arbeloa nipping in ahead of him, Ronaldo did not exactly react like a teammate should, instead kicking the ball in disgust or frustration (take your pick) and then shaking his head as the players headed back to the halfway line.
You never want to see a player unhappy at a fellow teammate scoring a goal, even if it was at your own expense, but that was Ronaldo all over after the Arbeloa goal.
It might be making a mountain out of a molehill, but then these are the small things that makes a player naturally lovable to not quite isn't it? Ronaldo will say it is that single-mindedness, the desire to score goals every game, and the fact that he gets really frustrated when he doesn't, which makes him one of the best, if not the best, players in the world.
And, who can argue with that. Because, if there is no Ronaldo, Real Madrid are half the team. But, you still wish Ronaldo would have cracked a smile and been happy for Arbeloa after that goal, rather than going into that sulk.
Below is the video highlights of the Real Madrid vs Almeria match, including that Ronaldo no-goal.