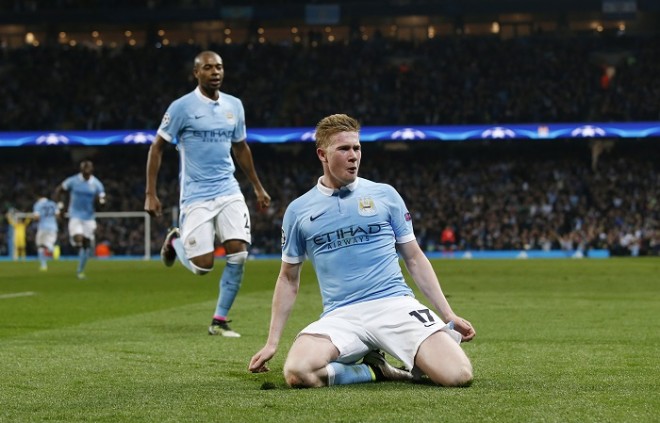 Manchester City broke the last 16 hoodoo by finally making it to the quarterfinals, and having drawn PSG in the last eight, it looked like the Champions League journey might end there. However, after a gutsy performance in the first leg in Paris, Manchester City showed their defensive skills to frustrate Laurent Blanc's men and advance to the semifinals of the competition.
Kevin De Bruyne, who also scored in the first leg, was the man to notch the winning goal, striking in the 76th minute to give Manchester City a 1-0 victory in the quarterfinal second leg at the Etihad. After the two teams finished their first leg 2-2, City, courtesy the De Bruyne goal, went through to the semis with a 3-2 aggregate victory.
Had the score remained 0-0 in the second leg, Manchester City would have still advanced on the away goals rule, but the De Bruyne goal, a strike from just outside the box, which curled in, pretty much killed off the tie, with PSG unable to muster up even a single goal, let alone the two they would have needed in the final 14 minutes.
"It's a great feeling," De Bruyne was quoted as saying by UEFA's official website. "I needed to control the ball because I saw some players diving in. So I just took my shot and fortunately for us it went in. We're in the semifinal now so anything can happen. We know it's going to be a tough one but PSG wasn't an easy one either, so we're looking forward to it and we'll be ready to play."
Manchester City could now face Barcelona, the defending champions, Real Madrid, the 2014 winners or Bayern Munich, the 2013 champs, in the last four, and while the Premier League side will be the underdogs if they draw one of those teams, provided Barca and Bayern also advance, Manuel Pellegrini, the manager, is confident of his side standing up to the test, having done so splendidly against Paris Saint-Germain.
"It is important to be in the semifinals," Pellegrini said after the match. "We were very unlucky in the last two seasons because we played against Barcelona in the round of 16 which is why we didn't get through.
"This year the team has improved and this season we qualified by winning the group. We played well against Dynamo (Kyiv) and against a very strong team in Paris Saint-Germain. Of course we can win the Champions League."