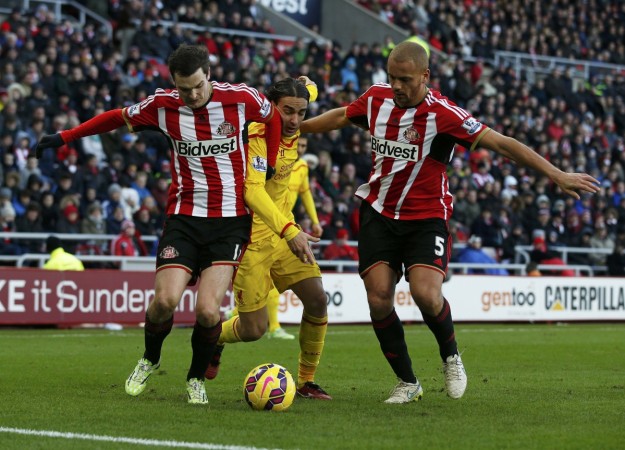 Liverpool's first half dominant play was enough to secure a win for the Reds as they defeated Sunderland at the Stadium of Light with Lazar Markovic's first goal in the English premier League.
Liverpool took an early lead in the 8th minute of the game and played some quality football, but were unlucky not to double their score at the completion of the first half.
There were no major surprises in Liverpool squad, which travelled to Sunderland, barring one, as their talented youngster, Raheem Sterling was given a deserved break by the Reds boss.
As a result of which, the Italian, Borini was given a start in the English Premier Leagues, something, which Reds have not been doing on a consistent basis, as Brendan Rodgers has preferred Sterling as the false number nine.
The Italian might not have done enough to deserve a starting place after Sterling returns from his holiday.
After Liverpool played a good first 45 minutes of football, the Reds could not continue with the same ferocity in the second half as they were continuously challenged by the home team, who came very close to scoring as well.
Liverpool should have taken the game to Sunderland after Liam Bridcutt was sent off after his second yellow in the 49th minute of the game.
Just minutes later, Sunderland's Adam Johnson hit the ball sweet, as the Belgian keeper Liverpool, Simon Mignolet was left clueless, only to be saved by the crossbar. It was one of the best shots of the game.
Adam Johnson was one of the liveliest player in the second half after troubling Liverpool defenders a number of times. Had luck been on his side he could have at least scored or assisted one goal.
The star player in the first half, Markovic looked somewhat lost for sometime as the player was asked to play Gerrard's position in the second half after the Englishman was substituted.
Despite a number of attacks against Liverpool, Sunderland could not break their poor goal scoring form. One of their key players, Connor Wickham also looked off colour.
Liverpool did play a good attacking brand of football, where one witnessed as many as 21 shots on goal, but their conversion rate was pathetic. A return rate of one goal for 21 shots does not reflect very highly of the Reds, who are still on the look-out of a clinical striker in the transfer window, who could bang in goals for them.
On a positive note for Liverpool, Daniel Sturridge is expected to make a return to the Liverpool side soon.
Liverpool play Aston Villa next week in the English Premier League.