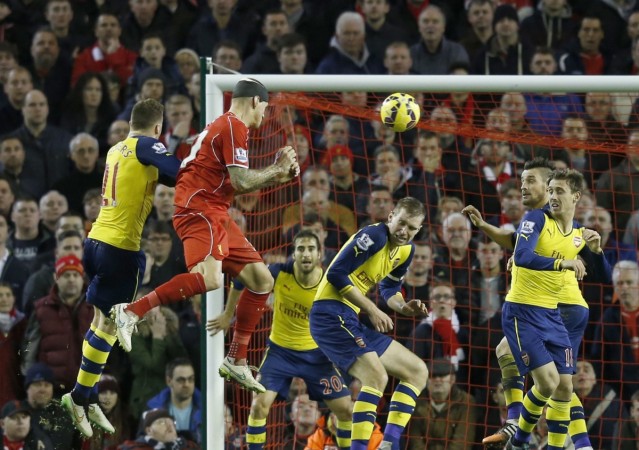 Ten-man Liverpool managed to record a dramatic 2-2 draw and salvage a point against Arsenal courtesy of a last-minute strike from Martin Skrtel.
Philippe Coutinho broke the deadlock just before halftime, but his strike was immediately cancelled out by Mathieu Debuchy. Olivier Giroud then put Arsenal ahead in the 64th minute, but Skrtel scored right at the death to rescue a point for Liverpool.
The Reds, who looked confident following their recent 3-1 win over Championship leaders Bournemouth in the quarterfinals of the Capital One Cup, were clearly the better side in the opening stages of the game even though they failed to create clear-cut chances up until the half hour mark.
Lazar Markovic stormed into the box and fired a good effort from a tight angle in the 34th minute, but Wojciech Szczesny produced an excellent save to ensure the scores remained level.
Liverpool's continued efforts finally bore fruit as they broke the deadlock late in the first half through Coutinho, who, after receiving the ball just inside the box, worked some space for himself before firing a low effort that went in off the post.
The Reds' joy was, however, shortlived as Arsenal immediately scored the equaliser through Debuchy. Liverpool failed to clear a freekick and this enabled the French fullback to head home the equaliser following a header from Mathieu Flamini.
Right after the break Liverpool seemed to have been dealt a blow after Giroud accidently stepped on Skrtel's head while challenging for the ball in the Reds box. However, the Slovakian defender was eventually able to continue and the Merseyside side club continued to attack.
A couple of minutes after the hour mark, Steven Gerrard missed a good opportunity to put his side in front as he was unable to get his diving header on target despite having Szczesny, who made a blunder by coming off his line to challenge Sterling, at his mercy
The miss proved to be very costly as Arsenal soon went ahead in the 64th minute through Giroud, who, after exchanging some good passes with Santi Cazorla, easily slotted a low effort past Brad Jones.
With only four minutes remaining, Szczesny did brilliantly as he tipped over a point blank header from Fabio Borini following a cross from Sterling.
Although things looked over for Liverpool after Borini was sent off following a second yellow towards the end of the game, there was a final twist in the plot as Skrtel grabbed the equaliser in the seventh minute of added time.
Adam Lallana sent a good delivery into the box and the heavily bandaged defender was given a free header to power home.