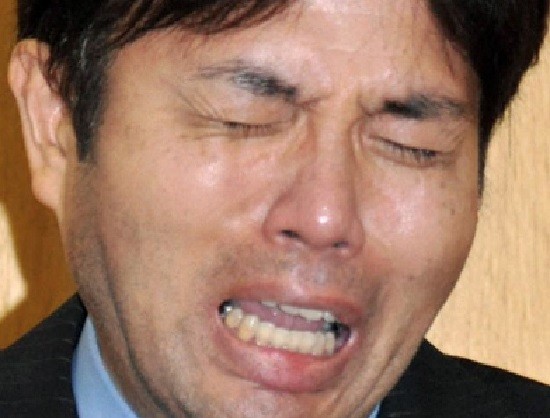 A video clip of a Japanese politician sobbing in a bizarre manner has gone viral.
Ryutaro Nonomura pulled the crying stunt at a press conference, which he had called to clear the air over corruption charges against him.
But his act has left many outraged and confused.
The video of Nonomura, 47, a Hyogo Prefecture assemblyman, bursting into tears, uttering nonsensical phrases and banging on the desk has been posted multiples times on YouTube, generating over a million views already.
In the video, Nonomura is seen making a funny crying face, while uttering phrases such as "I ran for office... to change the world, and so I gave everything I had to appeal to the public".
Nonomura wailed out between sobs in a three-hour long press conference.
It has been reported that a local newspaper published a story, alleging that the politician has used public money to visit the hot spring resorts 195 times last year.
While such visits are not illegal, it is alleged that the politician spent three million yen ($29435.43) from the public money for personal visits.
It was reported that Nonomura visited a resort located in the town of Kinosaki, which lies outside his precinct.
Money given out for the annual spendings of his constituency was spent on the leisure trips. Since the revelation, the public has been demanding an explanation, with many asking him to resign.
And now, following the crying gimmick, several Japanese television talk shows poked fun at the politician's behavior, with some even suggesting that he should have a mental check-up, The Japan Times reported.
Some television shows also carried looped footage of the press conference, showing Nonomura wailing and banging his fists on the desk, while tears stream down his face.
One of the YouTube postings was viewed more than 7,30,000 times by Wednesday night. Similary, a dozen other videos of the incident have also been posted on YouTube.
The outburst was widely criticized among the locals as Japanese take special pride in being stoic and strong in public.