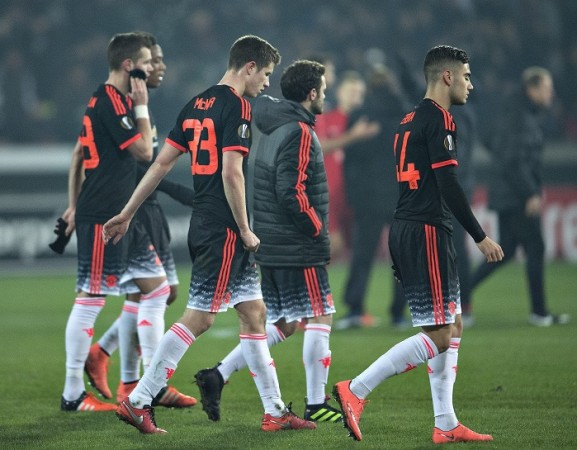 Another horror night came calling for Manchester United, as they were handed an embarrassing 2-1 defeat by Danish outfit FC Midtjylland in the Europa League round of 32 first leg.
Memphis Depay scored the only goal for Manchester United, before the English club lost their lead to the Danish Superliga champions.
Pione Sisto, an outstanding attacking talent, equalised for FC Midtjylland just before the referee was about to blow his whistle for halftime.
The hosts took advantage of the Manchester United's vulnerable defence, and scored their second goal in the 77th minute when substitute Paul Onuachu netted from outside the box.
Both the goals were equally good and both were scored from outside the penalty box. Sisto blasted one past Sergio Romero, called in after David De Gea suffered an injury, before halftime and Onuachu guided the ball into the left-bottom corner of the net. Romero made some brilliant saves in the game to keep the United ship afloat going into the second leg.
There is nothing convincing about the 20-time Premier League champions anymore. Their players should have played a lot better but such has been the story for the last few games.
While the Red Devils has been hurt by injuries time and again, that cannot excuse an embarrassing defeat.
"I think it is the law of Murphy, when you have a list of 13 injured players and a few minutes before the game we can add another player to the list. Then it is difficult to cope with such a list of injured players," Van Gaal was quoted as saying by ManUtd.com.
"It is nothing to do with attitude. All of the players want to perform in an excellent way so attitude is not the case. We were not winning the second balls. That is my analysis."
United made too many errors that helped the hosts to clinch a stunning victory. Giving away balls in dangerous areas was not really advisable when they were 1-0 up in the game already.
The English giants had their share of chances. Juan Mata missed an open header and Jese Lingard's volley struck the woodwork in the second half. Having said that, FC Midtjylland could have scored a few more if Romero had not been in top form.
Watch the full highlights here: