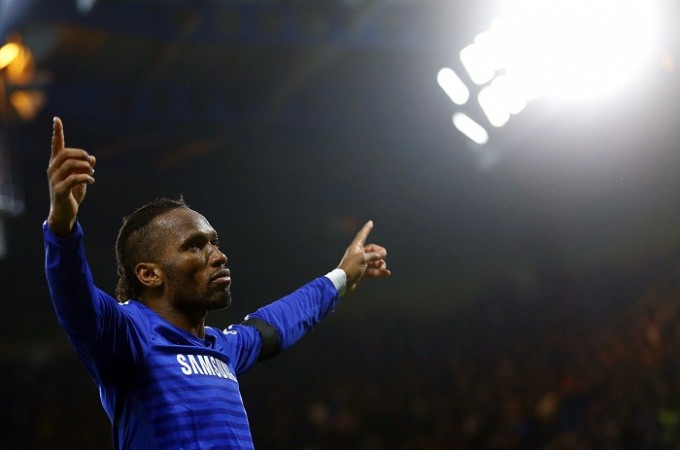 Chelsea continued to look scary-good, with Didier Drogba turning back the years with a majestic performance in a 3-0 romp over Tottenham in the English Premier League.
Drogba was the provider for the first Chelsea goal, playing in Eden Hazard off a one two for the Belgian to strike low and hard past Hugo Lloris in the 19th minute.
Three minutes later, Drogba showed just why he was once one of the best strikers in the Premier League, slipping in behind the Spurs defence, before latching onto a pass from Oscar to finish in style.
Tottenham actually started the game at Stamford Bridge pretty well, indeed much better than Chelsea did, but once those two goals went in, it was game over, with Loic Remy adding a glossy third in the second half to cap off another satisfying evening for the league leaders.
"We had difficult moments that weren't our fault," Chelsea manager Jose Mourinho told Sky Sports. "You have to give Tottenham credit, they started very well in both halves.
"They are a very good team, they have the principles of their game well established and it is not easy to play against them so we have to be happy.
"If they had scored when [Harry] Kane hit the bar or the chance then the game could have been different. They went for it, but after that our team was strong and defended very well."
The win was all the more impressive as it came without their premier striker Diego Costa, with Drogba and Remy showing they are more than up to the task as well.
"Most important is our approach," added Mourinho. "We don't cry because somebody is suspended, we just try to be positive and give confidence to the players that are going to play.
"I didn't want to speak about Diego not playing because I know what I have. There was no Diego but Drogba and Remy both scored. They don't play so many minutes but when they play they are there."
The match and result, of course, might have been completely different had Kane taken one of his two early chances, with the first one striking the crossbar, and the other whistling wide of the target.
Tottenham manager Mauricio Pochettino will be wondering what might have been after the 90 minutes, but what cannot be denied is that once Chelsea, coming off a 0-0 draw with Sunderland at the weekend, found their groove, there was no stopping them.
"We played very well at the start of the game but we conceded the first goal and then the second three minutes later and that made it difficult," said Pochettino. "Chelsea were then comfortable and it was difficult for us.
"If we scored maybe the game would have been there for us but I'm disappointed because I think we deserved more.
"In the second half we managed the game well until they made it 3-0. We need to be more clinical. Chelsea were and that made the difference.
"It's difficult after losing 3-0, but I think there are positives to take. We need to analyse the game but I think we are in a good way."