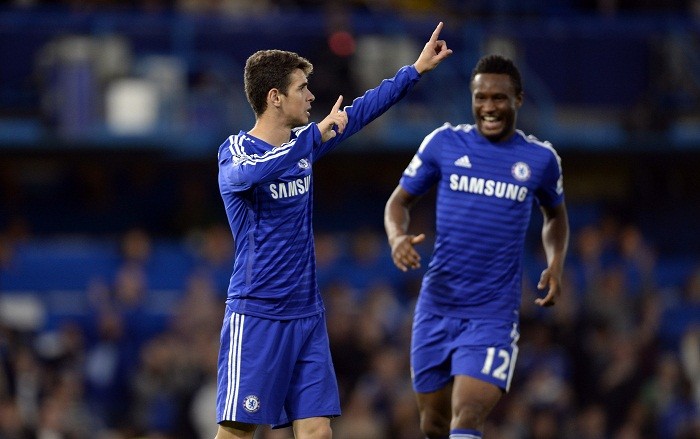 Chelsea needed an Oscar rescue act to scrape their way past Bolton Wanderers in their Capital One Cup third round match at Stamford Bridge on Wednesday.
The Blues looked to be in control after Kurt Zouma scored a debut goal for Chelsea in the 25th minute, only to see Matt Mills equalise for the Championship side just a minute after the half hour.
However, Chelsea restored their lead ten minutes into the second half courtesy a peach from Oscar, and Andre Schurrle will be a relieved man after the Germany international forward had a night to forget, spurning chance after chance.
"We are very happy with the performance," Chelsea assistant coach Steve Holland was quoted as saying by the club's official website.
"You hope motivation isn't a problem but it can be sometimes. The players' mentality was excellent right from the kick-off. Their approach and quality was very good. At halftime we said we couldn't ask for much more apart from a little detail in the two penalty boxes.
"We had a bit of an issue with height from set-plays and every time Bolton had a free-kick or corner that was a worry. That provided their equaliser from I think the first time the ball was in our box after about 30 minutes.
"Then the combination of some missed chances and a bit of bad luck and some very good goalkeeping meant we were still on the limit right at the end of the game.
"The Bolton goal was a ball hit in with pace and a very good header. In our team tonight we didn't have the physical stature we normally have in the Premier League and in the Championship there are a lot of goals scored from setplays. It was a concern."
What will be pleasing though is the performance of Zouma, who marked his first competitive appearance for Chelsea with a goal.
"Kurt is a player who has waited patiently for a chance to play," added Holland. "We have talked about him for games in the Premier League although he hasn't yet. He is in the discussions.
"He is not an inexperienced kid. He has played games for St-Etienne both as a right-back and centre-back, he is a France U-21 international in a strong group, and tonight without being particularly tested he was immaculate.
"What he did have to do he dealt with comfortably and being a threat in the opposition penalty box is a big bonus for a centre-back."
Chelsea next face a visit to League Two side Shrewsbury Town in the fourth round of the League Cup.

Chelsea vs Bolton 2-1 All Goals & Highlights 24... by chrolloxhisoka