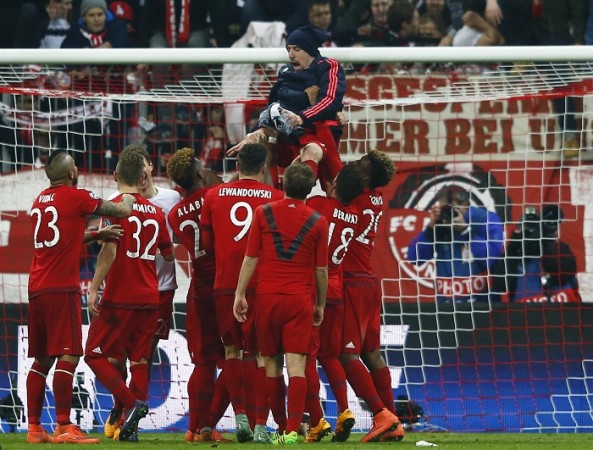 Bayern Munich were on the brink, and just like champion teams do, they found a way, first with a late goal to bring the tie on level terms, and then with a couple more after that in extra time to put this wonderful Champions League last 16 tie against Juventus to bed. Kingsley Coman, the forward on loan from Juventus, scored the match-ending goal for Bayern Munich late in extra time.
After a brilliant 2-2 first leg, where Juventus came from 2-0 down to keep the tie interesting, the expectation was that Bayern would do what was necessary at in front of their own fans at the Allianz Arena in the second leg.
However, Juve had other ideas, and the idea was to knock the stuffing out of Bayern with early goals. That came too, courtesy Paul Pogba in just the fifth minute of the match, with Juan Cuadrado, the on loan Chelsea winger, making it a dream 2-0 for Juventus.
Bayern Munich had to find two goals just to take the tie into extra time, and after a lot of huffing and puffing against a well-drilled Juventus unit, their usual suspects struck the telling blows.
First, it was Robert Lewandowski, scoring in the 73rd minute to bring the tie back to 3-4, before Thomas Muller scored the vital equaliser 16 seconds into second half stoppage time to take the match into extra time.
From there, Bayern Munich, with their tails up and that confidence building, found two goals in two minutes, via Thiago Alcantara and Coman to end Juventus' hopes of making another final appearance in the Champions League.
"We played and won against one of last season's finalists," Bayern Munich manager Pep Guardiola told UEFA's official website. "We scored four goals against an Italian team. And now we are playing in the quarterfinals. So congratulations to my players but also to Juventus.
"Juventus are a really strong team. Early on we were quite nervous. Imagine if they had scored the third goal, that would have been it. But it was us who scored and we took charge. Especially in extra time there was just one team playing and that was Bayern."
Juventus manager Massimiliano Allegri was proud of the manner in which his team took the game to Bayern, while ruing some of the chances and mistakes, which eventually cost them the win.
"I would like to say well done to my team," Allegri said. "This was a massive test and we performed really well for 65 minutes, creating good opportunities. But we made a big mistake at the end, we should have done better there. That's football, although of course I am a little bit disappointed.
"We were leading 2-0 and had the chance to make it three. We played well and showed our qualities. I am satisfied but disappointed. Nobody expected us to play like this against Bayern in Munich. We lost but we can be proud of our performance.
"Now we have to concentrate on the Italian championship and look forward to next season in the Champions League."