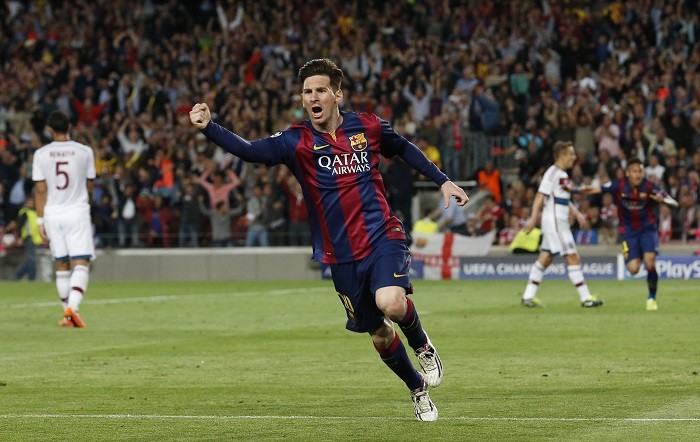 Pep Guardiola said, before the Champions League semifinal between Barcelona and Bayern Munich, that Lionel Messi, when on-song, is unstoppable. The Argentine showed just why, in an unbelievable performance which blew the 2013 champions away.
With the first leg match stuck in that 0-0 mire – not that it was not an entertaining 0-0 – Messi decided to take the game into his own hands – or to be precise his wonderfully-gifted left foot – and put Bayern Munich to the sword almost single-handedly.
The first goal was as Messi-like as they come. Take the ball from the left just outside the box, cut in and rifle a low shot which even Manuel Neuer can do nothing about.
If that 77th minute goal was a thing of beauty, the second one showed just why most people believe Messi is actually from another planet. Taking the ball from around the same area, Messi jinked his way into the box, made Jerome Boateng look like a 65-year-old, who has never played football in his life, while leaving him on the ground with an outrageous fake, before producing the most delightful chip over Neuer to leave the Camp Nou stunned in absolute awe.
The gloss on the first leg was put by Neymar, who took a pass from, who else, Messi before finishing past Neuer as Bayern left themselves too open, trying to find that away goal.
Pep Guardiola's return was not what he would have envisaged, and it must have been weird for the Spaniard, having watched Messi make defences look inept time and again from the dugout while in the same team, to be on the receiving end of the Argentine's brilliance.
"Barca is Leo -- but Barca are also a very good team and they are in top form in all departments," said Guardiola. "If you don't have possession against Barcelona it is difficult and our plan was to monopolise the ball and make them run.
"But, we were not dominant enough. With four defenders we were more solid than with three. We lost control in the closing stages of the match -- we always try to score. We had done well until the first goal but then we lost control."
The second leg might look like a foregone conclusion now, especially with the outstanding form of Messi. However, as Bayern Munich showed in the quarterfinal second leg against FC Porto at the Allianz Arena, when in their attacking groove, they can be pretty close to unstoppable themselves.
If they allow Messi to weave his magic again, though, this could end up being similar to the 7-0 scoreline from a couple of seasons ago, only, this time, with Barcelona ending up on the winning side.