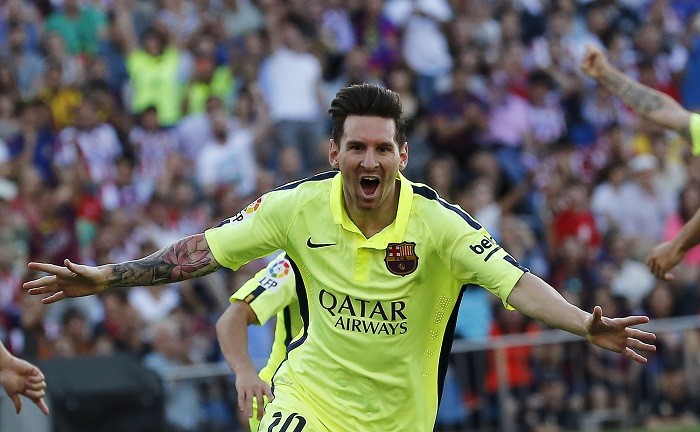 It had to be that little magician, and it had to be the kind of goal, which just made you stand up and applaud, irrespective of what team you support.
Lionel Messi was the match-winner again as Barcelona clinched their seventh La Liga title in 10 years – 23rd overall -- with a 1-0 victory over Atletico Madrid, the team that were deposed as the Spanish league champions in the process.
Messi was the difference between a draw at the Vicente Calderon and the three points that ensured Barcelona would win back the La Liga title, with the Argentine playing a typical one-two at the edge of the box, before waltzing through to apply an unerring Messi-like finish to the bottom corner on 65 minutes.
"This is a moment to remember all the people who have helped us win this title, everyone -- especially our fans," Barcelona manager Luis Enrique, who has defied all expectations to set Barcelona on the path to a brilliant treble was quoted as saying by the club's official website.
"This team deserved the win and we are all really satisfied to win the league. It's the title that rewards persistence and we have shown that we are have been at a great level."
A great level Barcelona certainly have been this season, and having clinched one title, they will now target a couple more – the Copa Del Rey, where they face Athletic Bilbao in the final on 30 May, and the Champions League, with Juventus lying in wait on 6 June.
"There are still two titles we are hoping to win, but winning the league is a great thing," added Enrique. "There are three games to go and two of them are finals.
"After the game against Deportivo, we have to focus on the Cup Final at the Camp Nou, which is a big challenge for us."
The title went Barcelona's way after the 1-0 win meant the lead over Real Madrid, who won 4-1 at Espanyol on Sunday, stayed at four points with just one match to go, making it mathematically impossible for Cristiano Ronaldo and co. to haul down the deficit.
"It's been a fantastic year," Barcelona defender Gerard Pique said. "We've stood tall and the reward has been this title
"It was a difficult year last season, but the team showed we could pick ourselves up. I am very proud to be a part of this great generation of players at FC Barcelona.
"We have to take each game at a time and now we need to focus on the Cup Final, which will be very tough. We are on the way, but there's still work to be done."
Now all that remains for Barcelona, as far as the league is concerned, is the coronation which will come next week at the Camp Nou.